Home
Forums
IRC Chat
Signatures
Goal Signatures
Calculators

Quest Guides
Mini-Game Guides
Miscellaneous Guides
Guild Guides
Treasure Trails
Agility
Combat
Achievement Diaries
Construction
Cooking
Crafting
Farming
Firemaking
Fishing
Fletching
Herblore
Hunter
Magic
Mining
Prayer
Ranging
Runecrafting
Slayer
Smithing
Summoning
Thieving
Woodcutting



By: Serge and Deathbyape, additions by Data/Loggy

This is a

members-only

feature.

Location: Barbarian Outpost, south of the Lighthouse
Requirements: Level 35 Agility, must have completed the Alfred Grimhand Barcrawl to access the outpost

To enter the Barbarian Outpost Agility course, you will of course need access to the Barbarian Outpost, which is the reward for the Alfred Grimhand Barcrawl. You will need 35 agility to squeeze through the pipe that leads to the rest of the course.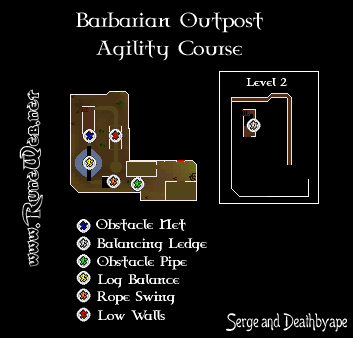 This is an intermediate course, with some obstacles that can be failed, but only minimal damage inflicted on the player.


| | | |
| --- | --- | --- |
| Obstacle | Failure possible? | Experience |
| Entry Pipe | No | 10 |
| Rope swing | Yes | 22 |
| Log bridge | Yes | 13.7 |
| Netting | No | 8.2 |
| Balance Ledge | Yes | 22 |
| Wall Climb* | No | 13.7 |


* - Note: There are three (identical) walls, yielding a total of 41.1 experience.

Agility Bonus: 46.2 experience.

Completed Lap: 153.2


Back to Top