By: Master Chen



(Note:

Text coloured red

indicates Members-Only items, locations or features)

How To Fish
Fish
Barbarian Fishing
Recommended Fishing Spots
Other Fishing Aspects
Fishing Tips
Extra Fishing Info
Fishing EXP Quest Rewards

All players in the world of RuneScape need food, and what nicer way to gather food than fishing? Fishing is a fast way of gaining food as there is only one ingredient (although other items may be required, ie. feathers and bait).

How To Start Fishing

Fishing equipment is needed in RuneScape to catch different types of fish. The various fishing tools can be bought from the fishing shops throughout the world. It is worth noting that while most of the shops sell the same stock of items, Catherby and the Fishing Guild also sell Net Fishing gear for Members, and the Fishing Guild store also has a larger stock of items than other stores. Also for some fishing types (fishing rod and fly fishing rod), extra items are needed. These are bait and feathers. They too can be purchased from the fishing shops for a little fee, from players for a little more, or (in the case of feathers) from chickens. Chickens drop 5-15 feathers each. Popular Fishing Store locations include:

∑ Port Sarim
∑

Shilo Village


∑

Catherby


∑

Rellekka


∑

Fishing Guild (On the floor near the range)


∑

Fishing Guild (The salesman)


∑

Etceteria + Miscellania


∑

Fishing Colony (The banker)



The fishing tools are listed below:


Image

Name

Notes

Minimum Level

Small Fishing Net

First type available

1

Fishing Rod

Requires bait

5

-

16

Fly Fishing Rod

Requires feathers

20

Harpoon

Requires no additional items

35

Acts like a Harpoon, can be wielded

35

Lobster Pot

Obviously only for lobsters

40

Heroís Quest

item, requires bait

53

Must complete

Tai Bwo Wannai Trio Quest

65


You do not need to equip the fishing equipment, and you do not need to equip fishing bait and feathers. You simple have to have the items in your inventory. When using fishing rods be sure to have the correct additive, feathers or bait, in your inventory. If you have the correct fishing equipment and a high enough level, you can go to any fishing spot and began to fish. Fishing spots can be found in almost all of the water of RuneScape, except fountains and sinks. They look like a sparkling spot of water, and with most of them you can right click them to choose how you want to fish.

You may be able to cage at a fishing spot (for lobsters), or perhaps harpoon at that same spot for tuna or swordfish. Fishing spots vary widely. Fly fishing spots are commonly found in the rivers and freshwater of RuneScape. The sea houses the fish for other methods, bait fishing, netting, caging, and harpooning. The Karamja docks are the only place for lobster potting and harpooning on free-to-play worlds.

Fish

Below are details on all the fish that you can catch in Runescape:


Image

Fish

Level

Experience

Equipment Needed

Location

Shrimps

1

10

Small Fishing Net

Sea

Sardine

5

20

Fishing Rod + bait

Sea

5

10

Small Fishing Net

South Tai Bwo Wannai village

Herring

10

30

Fishing Rod + bait

Sea

Anchovies

15

40

Small Fishing Net

Sea

16

20

Trout

20

50

Fly Fishing Rod + feathers

Rivers

23

45

Pike

25

60

Fishing Rod + bait

Rivers

28

65

Fishing Rod + bait

Mort Myre swamp, Lumbridge Caves

Salmon

30

70

Fly Fishing Rod + feathers

Rivers

33

75

Small Net

Tuna

35

80

Harpoon

Karamja,

Catherby, Fishing Guild, Fishing Colony

36

30

Fishing Rod + Slimy Eel Bait

38

80

Fishing Rod + bait

38

80

Fly Fishing Rod + Stripy Feathers (see

Bird Snaring

in Hunter)

Seers' Village Lake River, Barbarian Village

Lobster

40

90

Lobster Pot

Karamja,

Catherby, Fishing Guild

46

100

Swordfish

50

100

Harpoon

Karamja,

Catherby, Fishing Guild, Rellekka, Piscatoris Fishing Colony

53

30

62

120

Small Fishing Net

65

110

Karambwan vessel and Raw Karambwanji

North of Jogres on Karamja

76

110

Harpoon

79

105

81

115


When using the

Big Fishing Net

at

Catherby

or the

Fishing Guild

, you can also catch various objects that are found in the sea. These are listed below:


| | | | | |
| --- | --- | --- | --- | --- |
| Image | Name | Level | Experience | Uses |
| | Seaweed | 16 | 10 | Used to make Soda Ash for Crafting |
| | Casket | 16 | 10 | Contains a rare item |
| | Oyster | 16 | 10 | The pearls are used to make crossbow bolt tips |




Barbarian Fishing



The barbarians have many unique skills, and fishing is one of them. They have mastered powerful fish and even fishing without any kind of tool or equipment at all. See the Barbarian Training page.

Recommended Fishing Spots

There are some very useful fishing spots throughout Runescape, most of which are listed below. All of the following locations, however, are members only; for freeplayers, it's best to fish at the Karamja Docks (for higher level fishers).



Fishing Guild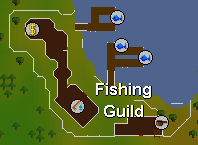 The fishing guild can be entered at level-68 Fishing, level-65 Fishing with one dose of Fishing Potion or Fish Pie, or level-63 Fishing with a bite of Admiral Pie. The fishing guild is a great place to catch fish. There, you can catch lobsters, tuna, swordfish and sharks. There is a bank for storing your fish, a fishing store and a range for cooking. Roachey, the fishing store owner at the fishing guild, does not sell fishing tools, only fish, bait and feathers. However, you can pick up a harpoon, lobster pot and big net on the floor of the room with the range, in the guild.



Burgh de Rott



Burgh de Rott, although a bit out of the way of civilization, is a tranquil fishing spot, all of which consist of Shark and Big Net Fishing. After you have completed the In Aid of the Myreque Quest, you are able to use the fishing spots in the area, with a bank just north of the fishing spots.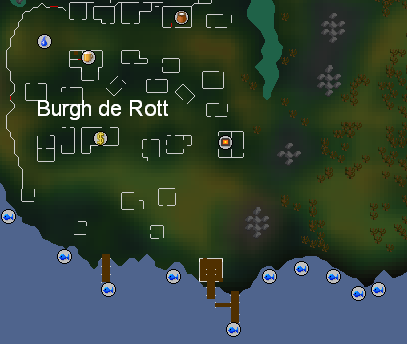 The good thing about Burgh de Rott, is that the fishing spots do not move very often, and you will not be stuck on a dock with your fish all the way over on the other dock such as the fishing spots in the Fishing Guild tend to do.



The Fishing Colony



With the release of the Swan Song quest, the Fishing Colony has been a popular place for high level fishers. The Fishing Colony is the only location in Runescape where you can fish monkfish.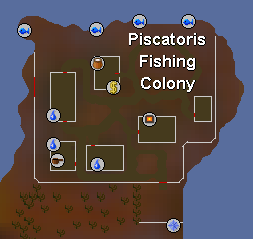 Fishing Monkfish is some of the fastest exp in the game, only second to fly fishing in Shilo Village. There is a bank, directly south of the shore. The same person who runs the bank also runs the general store. Getting to the Fishing Colony can be a pain. The fastest path of travel would be to take a Gnome Gilder to the Grand Tree, leave the Tree Gnome Stronghold via the south gate, run directly west, then follow the narrow path till you reach the boat to the colony.

Other Fishing Aspects

There are a couple of other things in Runescape that are important to know about if you wish to fish.



Trawler Mini-Game



The only real fishing Mini-Game is the Fishing Trawler, which involves you and some friends going out on a boat to catch impressive fish and things of that nature. See the Trawler Guide for more info.



Fishing Random Events



Random events also occur whilst fishing. If you donít know what random events are or arenít familiar with them, they are events which occur randomly, surprisingly. They are part of RS2ís security system to stop macro users. They will just require a quick and simple reaction and you can go on with your business. Random events that occur while fishing are listed below:


| | | |
| --- | --- | --- |
| Image | Name | Information |
| | Whirlpool | If you fish in a whirlpool you can lose your fishing tool. Just wait until the fish return or move to another spot |
| | Big Fish | A big fish will appear, swallow the fish, and take your fishing tool. It will throw it back onto land a few squares away from you. Just pick up your tool and move to another spot or wait until it returns |
| | River Troll | A River Troll appears and starts attacking you. Its level depends on your combat level. Just run away a little until it stops attacking you, and then return |
| | Moving Fishing Spot | Your fishing spot will move to another location. Wait until it returns or move to a new location |


Fishing Tips

The only place in the Free to Play worlds to fish Lobsters, Tuna, and Swordfish is on the pier in Karamja. Members typically fish those at Catherby, Burgh de Rott, the Fishing Colony, or the Fishing Guild. The Fishing Guild is a very helpful place for fishers. Located North of Ardougne, if you have 68 Fishing, you can get in, and have access to several fishing spots that contain various types of fish. There is also a fishing shop and a bank. See the Fishing Guild Guide for more info.

Extra Fishing Info

There are some other, extra things that you should know about while raising fishing:

Cape of Accomplishment

The ultimate reward for getting level 99 Fishing is not only the great ability you will have in the skill, but the Cape of Accomplishment that you will have the oppurtunity to purchase. For more information on Capes of Accomplishment, see the Skill Capes page.

Related Links

The following links may help you with your Fishing.

Fishing EXP Rewards in Quests

The following quests give Fishing EXP Rewards upon completion.


| | |
| --- | --- |
| Quest | Exp |
| | 10000 exp |
| | 1000 exp |
| | 2437.5 exp |
| | 2725 exp |
| | 2812.4 exp |
| | 3000 exp |
| | 5000 exp |
| | 7000 exp |
| | 7175 exp |
Back to Top