By: Seiferoth, Splatman, & FireballX301; revisions by Data/Loggy

(

This is a members-only skill.

)

Overview
Pickpocketing
- Equipment
Stalls
Chests
Other Objects
Extra Thieving Info
Thieving EXP Quest Rewards

Thieving is a skill where you can steal money and items, trick and treat NPC's, overcome dangerous traps, and so on and so forth. Theiving can be dangerous due to what may happen if you are caught theiving, but rewarding if done right.

Overview

Thieving is simply divided up into a few different techniques, each one involving a different bit of clever sneakiness. The techniques are as such:

Pickpocketing, which involves the sneaky plundering of peoples pockets (which may tick them off)


Stalls, as in stealing from various market stalls that are home to sometimes valuable items (beware of guards and law enforcers)


Chest lockpicking and looting (check for traps)

Along with the above main concepts, there are numerous other things in Runescape what require a certain Thieving level to disarm, disconnect, destroy, unlock, untie, or undo in a varying manner of ways, shapes, and forms.

Pickpocketing

Pickpocketing is the most basic form of Theiving. To pickpocket, right click an NPC and hit the pickpocket option. When you fail to pickpocket, you'll take a set amount of damage and be stunned for a few seconds.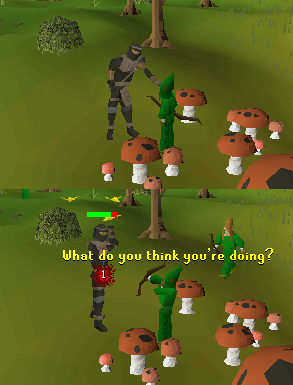 Pickpocketing different NPCs gives different loot. NPCs have bottomless pockets and may be stolen from as fast as you can pickpocket. When pickpocketing, try to lure your target NPC into a room and close the door so to limit it's movement.


| | | | | | |
| --- | --- | --- | --- | --- | --- |
| Name | Image | Level | Exp | Location | Loot |
| Man(& Woman) | | 1 | 8 | Human Cities | 3 Coins |
| Farmer | | 10 | 14 | Lumbridge, South of Falador, and North of Ardougne. | 9 Coins, various seeds |
| H.A.M Follower(Female) | | 15 | 18.5 | H.A.M. Headquarters in Lumbridge. | * See H.A.M. Loot |
| H.A.M Follower(Male) | | 20 | 22.25 | H.A.M. Headquarters in Lumbridge. | * See H.A.M. Loot |
| Warrior | | 25 | 26 | Al Kharid, Varrock Castle, and Ardougne. | 18 Coins |
| Rogue | | 32 | 35.5 | High-Level Members Wilderness. | 25 or 40 Coins, 8 Air Runes, Lockpick, Iron Dagger(p) or Wine |
| Cave Goblin | | 36 | 40 | Dorgesh-Kaan | Coins, iron ore, tinderbox, swamp tar, oil lantern, torch, green gloop soup, frog spawn gumbo, frog burger, crispy froglets, bat shish, wall beast fingers, bullseye lantern, cave goblin wire |
| Master Farmer | | 38 | 43 | Draynor Village, various farms | Various seeds |
| Guard | | 40 | 46.5 | Almost every major RS City. | 30 Coins |
| Fremennik | | 45 | 65 | Rellekka | 40 coins |
| Bearded Pollnivnian Bandit | | 45 | 79.4 | Pollniveach | Antipoison, Lockpick, 30 gp |
| Desert Bandit | | 53 | 79.25 | Desert Bandit Camp | X Coins, Lockpick, Antipoison(1) |
| Knight | | 55 | 84.25 | Ardougne | 50 Coins |
| Pollnivnian Bandit | | 55 | 84.25 | Pollniveach | 50 Coins |
| Watchman | | 65 | 137.5 | Yanille Watchtower | 60 Coins and Bread |
| Menaphite Thug | | 65 | 137.5 | Pollniveach | 60 Coins |
| Paladin | | 70 | 152 | Ardougne | 80 Coins and 2 Chaos Runes |
| Gnome | | 75 | 198.25 | Gnome Stronghold | 300 Coins, King Worm, Swamp Toad, 1 Earth Rune, Gold Ore, or Fire Orb |
| Hero | | 80 | 274 | Ardougne | 100, 200 or 300 coins, 2 Death Runes, 1 Blood Rune, Fire Orb, Gold Ore, Wine, or Cut Diamond |
| Elf | | 85 | 353.375 | Isafdar | 280 or 350 coins, 2 Death Runes, 3 Nature Runes, Fire Orb, Gold Ore, wine |


* - H.A.M. Loot:

Pickpocketing from H.A.M. members can yield many various items, all of which are listed below:

HAM Cloak, HAM Hood, HAM Robe, HAM Shirt, HAM Logo, HAM Gloves, HAM Boots


Bronze Pickaxe, Bronze Dagger, Iron Pickaxe, Iron Dagger, Steel Pickaxe, Steel Dagger, Bronze Axe, Iron Axe


Low-Level Herbs, Raw Chicken, Raw Anchovies, 1-21 Coins, 1-11 Thread, 1-7 Feathers, 1-12 Bronze Arrows, 1-7 Steel Arrows


Iron Ore, Coal, Uncut Opal, Uncut Jade, Cowhide, Logs


Damaged Armour, Rusty Sword, Needle, Buttons, Knife, Leather Body, Tinderbox



Pickpocketing can get a might risky what with digging 'round in peoples pockets, which they are more than likely not going to approve of. Have no fear - there are ways to improve your pants plundering!

Blackjacks

In Pollniveach, you can purchase a blackjack to perform an initial knockout on a target, to guarantee a pickpocket. By selecting to 'Lure' a target away from crowds, you can then select to 'Knock-Out' the said target. You aren't guaranteed the knockout. Knocking out the people around Pollniveach yields minor exp bonuses. No level is required to knock out the target, only to pickpocket.


| | |
| --- | --- |
| Npc | Exp |
| Villager | 8 |
| Bandit | 10 |
| Menaphite Thug | 20 |


Gloves of Silence

The Gloves of Silence will increase your chances at pickpocketing. The gloves can be obtained by giving two Black Kebbit Fur and 600 gp to the Fancy Dress Shop Owner in South-East Varrock.


Item

Gloves of Silence

+1

+2


To wear the Gloves of Silence, you must have 54 Hunter. If you fail pickpocketing too often with the gloves, they will eventually wear out - but fear not, they can be repaired, if you have level 64 Crafting. 'Inspect' the gloves to see how damaged they are, and if you desire so, use some Dark Kebbit Fur on the gloves with a needle, thread, and knife in your inventory, which will fully repair the gloves.

Stalls

Stalls are a very important aspect of thieving. They are useful for training on, and can yield some good items. Stalls are located in the markets of certain cities, and the idea is to snatch whatever is sitting on the stalls whenever possible.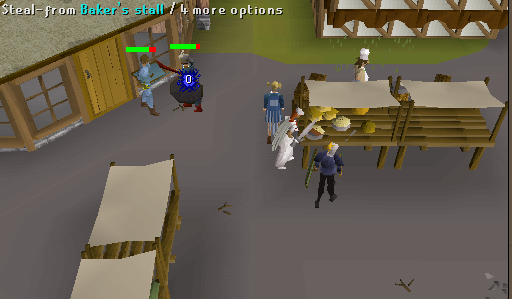 To steal from a stall, right click on the stall and hit the steal-from option. Surrounding NPCs won't take this lightly, however - if the stall owner is anywhere around you, he'll stop you and call for some guards, and any guards, knights, or so on around will come rushing at you.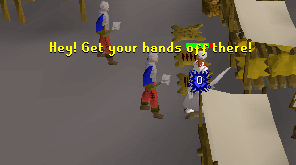 Stalls have recharge times - they may only be stolen from if there's goods on the stall to take. Other players will compete with you to take the loot first, so you need to be quick in order to steal from any stalls. If every player clicks on the stall simultaneously, however, all players will get the loot.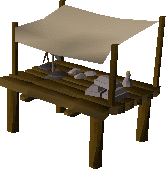 The table below gives information on the various stalls in RuneScape.


Stall

Level

Exp

Location

Loot

Vegetable Stall

1

10

Miscellania

Onion, tomato, cabbage, garlic, potato

Bakers Stall

5

16

Ardougne, Keldagrim

Cake, meat pie, bread, slice of chocolate cake

General Stall

5

16

Ape Atoll

Hammer, pot, tinderbox

Tea Stall

5

16

Varrock

Tea

Crafting Stall

5

16

Ape Atoll, Keldagrim

Chisel, necklace mould, ring mould

Monkey Food Stall

5

16

Ape Atoll

Banana

Rock Cake Stall

15

10

Gu'Tanoth

Rock Cake

Silk Stall

20

24

Ardougne

Silk

Wine Stall

22

27

Draynor

Jug, Jug of Water, Grapes, Jug of Wine, Bottle of Wine

Seed Stall

27

10

Draynor

All Vegetable, Hop, Flower, & Herb Seeds

Fur Stall

35

36

Ardougne, Rellekka

Grey Wolf Fur

Fish Stall

42

42

Rellekka, Miscellania

Raw salmon, raw tuna, raw lobster

Crossbow Stall

49

52

Keldagrim

Bronze Crossbow Limbs, Wooden Crossbow Stock, Bronze Bolts

Silver Stall

50

54

Ardougne, Keldagrim

Silver ore

Magic Stall

65

100

Ape Atoll

Earth, Fire, & Water Runes

Scimitar Stall

65

160

Ape Atoll

Iron or Steel Scimitar

Spice stall

65

81.3

Ardougne

Spice

Gem stall

75

16

Ardougne, Keldagrim

Uncut Sapphires, Emeralds, Rubies, or Diamonds


Chests

Chests can be particularly dangerous, as well as very rewarding. Chests are simple enough - you must attempt to unlock the chest, as well as disarm any traps placed on it. A failure to unlock a chest can require in varying amounts of damage dealt, among other things.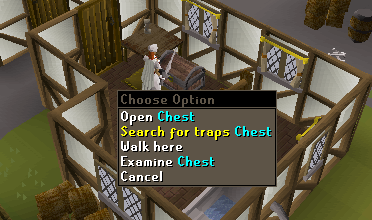 There are various chests located throughout Runescape that yield loot. The chests usually require a bit of effort to get to, and may only be looted every so often - the loot inside the chest needs to respawn.





The table below gives information on the various chests in RuneScape.


Chest

Level

Exp

Location

Loot

10gp Chest

13

7.5

Ardougne, Relleka, Wilderness

10 gp

Nature Chest

28

25

East Ardougne, Relleka

3 gp, 1 Nature Rune

50gp Chest

43

125

East Ardougne

50 gp

Arrowhead Chest

47

150

Head Mourner's Room (ME2), Relleka, Hemenster

20 gp, 5 Steel Arrowtips

Average Chest 1

52

200

Dorgesh-Kaan, Zanik's House

Possible Loot: Oil lantern, bullseye lantern, cave goblin mining helmet, cave goblin wire, rope, frog armour, bone bolts, bone crossbow, bone dagger, H.A.M. clothes, spade, bucket, hammer, newcomer map, big bones, coins

Average Chest 2

52

200

Dorgesh Kaan, Oldak's House

Possible Loot: Runes (air, earth, fire, water, body, mind, cosmic, chaos, nature, death or law), staff orb, talisman (water, air, earth or fire), Dorgeshuun light orb, empty light orb, cave goblin wire, Teleportation Sphere

Blood Chest

59

250

Chaos Druid Tower (North of Ardougne)

500 gp, 2 Blood Runes

Shark Chest

72

500

King Lathas's Castle (Ardougne)

1000 gp, Raw Shark, Uncut Sapphire, Adamantite Ore

Rich Chest

78

650

Dorgesh-Kaan

Possible loot: Uncut sapphire, uncut emerald, uncut ruby, uncut diamond, uncut opal, uncut jade, uncut red topaz, bullseye lantern, cave goblin mining helmet, frog armour, iron bar, Dorgeshuun light orb, empty light orb, 500-2500 coins


Other Objects

Several doors, pits, and other objects are locked and trapped, and may be disarmed, for whatever goal. There are numerous and near limitless obstacles across RuneScape, so the ones listed below are among the more prominent and important ones.




Please note that most obstacles in Runescape that are changed in some way via the Thieving Skill yield little to no experience, just as many Agility Obstacles.


| | | | | |
| --- | --- | --- | --- | --- |
| Object | Level | Exp | Location | Purpose/Loot |
| East Ardounge Door | 1 | 3.5 | Southern building at the east entrance of Ardougne | Access to the 10GP Chest |
| East Ardounge Door | 14 | 15 | Northern building at the east entrance of Ardougne | Access to the Nature Rune Chest |
| East Ardounge Door | 16 | 15 | The building just northwest of the Ardougne Chapel | None |
| H.A.M. Camp Trapdoor | 17 | 4 | The ruined building between Drayonr Village and Lumbridge | Access to the H.A.M Fanatics' Camp |
| Ardougne Sewer Gate | 32 | 25 | The gate down the Ardougne Manhole, northwest of the southern bank | Access to the mining area with Zombies |
| Pirate House Door | 39 | 35 | The building west of the Mage Arena Level-54) Wilderness | Access to the Pirate House |
| Axe Hut Door | 42 | 23 | The building northeast of the Ardougne Wilderness Teleport (Level-54) Wilderness | Access to the Axe Hut |
| Chaos Druid Tower Door | 46 | 37 | The building northwest of the northern Ardougne exit (West of the river) | Access to the Blood Rune Chest |
| West Ardougne Castle Door | 61 | 50 | In the west Ardougne Castle | Access to the Shark Chest and Paladins |
| Yanille Agility Dungeon Door | 82 | 50 | In the Yanille Sewers located south of the Yanille Bank | Access to the Yanille Agility Dungeon |


Extra Thieving Info

There are some other, extra things that you should know about while raising thieving:

The Rogue's Den

When you have 50 Theiving, you may want to consider the Rogue's Den, located under the pub in Burthrope. The Rogue's Den is simply a giant maze, filled with all sorts of things for skilled theives to try to best. The farther you get through the maze, the more agility and theiving experience you gain. See the guide for more info.



The Sorceresses' Garden



Another quick way to gain Thieving experience is through another Mini-Game: the Sorceresses' Garden. In this game, you have to steal some weird fruits and such to yield ridiculous amounts of experience. It is definitely worth looking at.

Bandit's Brew

The Bandit's Brew is a drink that will raise your theiving temporarily by one. It can be purchased in the bandit camp for 650 gp.

Cape of Accomplishment

The ultimate reward for getting level 99 Thieving is not only the great ability you will have in the skill, but the Cape of Accomplishment that you will have the oppurtunity to purchase. For more information on Capes of Accomplishment, see the Skill Capes page.

Theiving EXP Rewards in Quests:


| | |
| --- | --- |
| Quest | Exp |
| | 500 exp |
| | 1000 exp |
| | 1000 exp |
| | 1000 exp |
| | 1000 exp |
| | 1250 exp |
| | 1500 exp |
| | 1775 exp |
| | 2000 exp |
| | 2175 exp |
| | 2500 exp |
| | 2812.4 exp |
| | 3000 exp |
| | 3500 exp |
| | 4500 exp |
| | 4500 exp |
| | 5000 exp |
| | 6000 exp |
| | 6000 exp |
| | 7000 exp |
| | 7000 exp |
| | 15000 exp |
| | 25000 exp |
Back to Top