Home
Forums
IRC Chat
Signatures
Goal Signatures
Calculators

Quest Guides
Mini-Game Guides
Miscellaneous Guides
Guild Guides
Treasure Trails
Agility
Combat
Achievement Diaries
Construction
Cooking
Crafting
Farming
Firemaking
Fishing
Fletching
Herblore
Hunter
Magic
Mining
Prayer
Ranging
Runecrafting
Slayer
Smithing
Summoning
Thieving
Woodcutting





By: Geo1988



Start Point: Speak to Sir Tiffy Cashien in Falador
Quest Requirements: Must have completed Sea Slug Quest and Wanted! Quest
Skill Requirements: Level 30 Crafting, Level 30 Runecrafting, Level 30 Slayer, and Level 30 Thieving
Items Required: CommOrb (obtained through Sir Tiffy Cashien if you lost it), 1 Swamp Paste, Dead Sea Slug (obtainable during quest), 5-10 Rune Essence, Chisel, Ardougne Teleport Runes,and Weapons and Armor to defeat (level-62) Slug Prince.

To begin this quest, speak to Sir Tiffy Cashien, loacted on the bench in Falador Garden.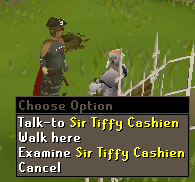 Speak to Sir Tiffy Cahsien and ask him for a job. He will tell you that you could do a few missions for the Temple Knights. He wants you to go to Witchaven, south-east of Ardougne and speak to Col O'Niall. He then tells you to remember the Temple Knight Code Phrase 'In Falador, the geese fly backwards on Tuesdays'.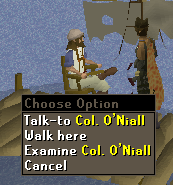 Col O'Niall is loacted on the northeastern tip of Witchaven, sitting in a rocking chair on the dock. He tells you that he had a meeting with the mayor and that he was planning to take down the shrine just south of town. The mayor, once very religious, is now brining in mining equipment as well as rune essence. After this, ask him of the important people in Witchaven. He will tell you to first speak to Mayor Hobb, Brother Maledict, and finally Holgart the fisherman.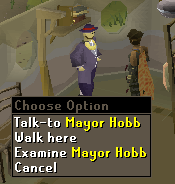 Head back west, following the trail to the northwestern house in Witchaven, Mayor Hobb's house. When he asks you what has brought you to Witchaven, tell him that you are here to fish. You will notice he feels a bit dazed, and he tells you that the shrine to the west needs more work. Mayor Hobb will then call you out that you are not actually there to fish and he will somehow know your name. Ask him what improvements he is making to the shrine. He will tell you that the shrine holds can unlock a new path for Witchaven, then RuneScape.

When you start to exit, you will be stopped by Savant in your CommOrb. She wants you to scan the Mayor for her. Head near the Mayor and click on your Commorb v2 to scan him. She cannot find any magic being cast on him, but she can register two life forms present at his location.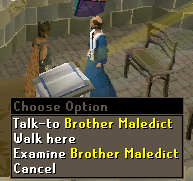 Head just a bit east from the Mayor's house and into the shrine. Speak to Brother Maledict. He will tell you that he is quite concerned because his congregation seems to be drifting away from him. Ask him about the shrine and he will tell you that it existed back when Witchaven was first founded, over one hundred and fifty years ago. He mentions that the shrine was abandoned when the village came to being, and since then it has been falling apart.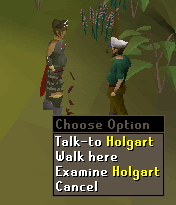 From the shrine, head futher north towards the shore, and speak to Holgart. He will tell you that he cannot sail any longer. He will tell you that the Mayor introduced his new 'Artivles of Sailing', and that he had to forfeit his boat. They mayor gave it to Jeb Wormwood instead.

After you have spoken to him, head back to Col O'Niall and report the news. He will recommend that you investigate the area around the shrine. From Col O'Niall, head southwest, just outside of Witchaven to the ruined shrine.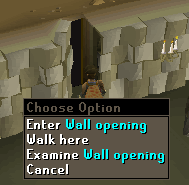 Head down the ladder inside the shrine, and there will be a wall you can push on the east side of the temple wall. If you can, squeeze through the shortcut on the eastern side of the cavern. If not, weave through the cavern, past the giant lobsters, and you will arrive at a large set of Imposing Doors. Attempt to open them, and Savant will ask you to take a scan, standing right next to the door. She will inform you that the runes look like ancient Saradomon runes. She will give you a Door Transcription, and ask you to carry them to Jorral, in the tower north-west of Ardougne. Before you leave, take a Dead Sea Slug, you will need it later on.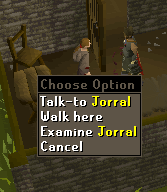 Head back to Ardougne, and then head north-west to the tower where Jorral is located. (Where you start Making History) Speak to Jorral and ask him to translate the transcription you were given. He will then tell you that maybe he could do it next month. Before things get out of hand, Savant tells you to tell him you're working for a wizard who's sending you telepathic instructions. Then she will tell you to tell him that they have a front company who's keeping Jorral on tetainer and that you are working for Petmel Books. He decides to translate the text and tells you that it pretains to a great battle between Saradomin and something called the Mahey'ish Medron and that it refers to someone called Mother Mallum, who was trapped in behind a mystical prison.

Savant will soon contact you and tell you that Mother Mallum was a great evil who took over most of the world in centuries past. She mentions that it took all of the uncorrupted knights all their stength to remove the slea slug possesion. Once freed, they attempted to rise up and overthrow her, but was too strong. She will then tell you to head back to Witchaven to speak with some of the villagers for clues.

Head back to Witchaven and inform Col O'Niall of the recent news. He will tell you that the Mayor must be preparing to break Mother Mallum free. He suggests that you run back and speak to Brother Maledict. Before you enter, you will see a short cutscene with the Mayor walking out telling Brother Maledict "Welcome to the family." You will notice he is lethargic and speaking of work, just like the Mayor had been. He tells you that the information of what is behind the doors is in the book of Saradomin, but you may not read it. He will ask you to find the pages that have been stolen from the book.





Head to the Mayor's house, and search his desk to obtain the first page. After that, head down east to the fishing store and ask Ezekial Lovecraft for the second page of the book. For the final page of the book, head back to Col O'Niall and he will give you the last page. You need Swamp Paste to stick the pages back together. Right before you put the swamp paste on the page, Savant tells you to stop before you ruin the paper. She tells you that Sea Slugs for glue if they are boiled down, but you need to find an experienced cook.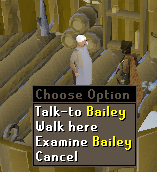 Head to the fishing platform by speaking to Jeb, where Holgart is located. Speak to Bailey, just west from where you arrive, he will tell you that the gumbo he has been cooking lately has become thick and sticky. He tells you that you need a Dead Sea Slug. If you have the Dead Sea Slug in your inventory, he will give you some Sea Slug Glue. Use the glue on the fragment, and you need to piece the map together yourself using the directional keys.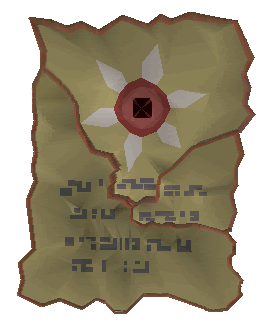 After you have put together the pieces of the page, read them and you will discover that you need charged Earth, Air, Water, Fire, and Mind runes to place in the doorway below the shrine. To Charge your Runes: You need a chisel, and the three pages in your inventory. Right click on the page to "shape" your runes. You will recieve a blank rune of the type you changed it into. Go the the respective altars of the blank runes, and use them on the altar so they become charged. Make sure you bring more than one shaped essence, if you fail, you will destroy the essence. After you have made the five charged runes, use them on the two imposed doors at the end of the tunnel inside the shrine.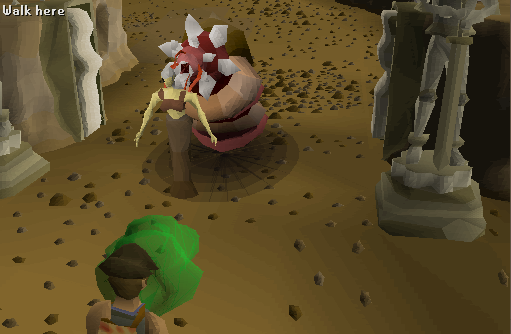 When you use all f your charged runes on the door, they will open and Mayor Hobb will come from behind them. He will show you a gigantic Slug Prince (level-62) which you will have to fight. After you have defeated it, you will be confronted by Mother Mallum. She suggests that either they kill you, or make you an extension of their will, meaning that you will be the replacement for the new body. Savant will appear just before you are attacked, she will attempt to teleport you away, but it will fail. After a second try, she manages to teleport you away from danger.

Speak to Sir Tiffy and tell him the news. He will tell you that you will be put in charge of the mission and you will need to access some of the more restricted resources of the Temple Knights. You will then be promoted in the ranks of a Temple Knight. He tells you that you will have to access to the Temple Knight headquarters in due time, but they need to collate their information and plan ahead. He then tells you that Colonel O'Niall has been placed on the disavowed list, and should be killed on sight, but that is not until later...

Congratulations! Quest Complete!!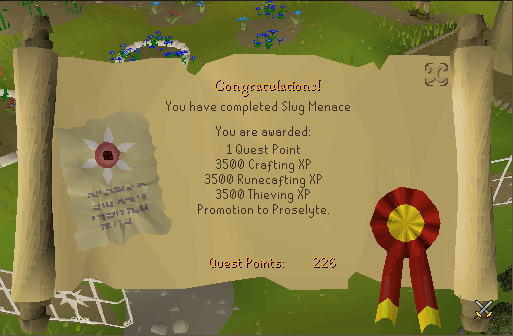 Rewards: 1 Quest Point, 3500 Crafting Experience, 3500 Runecrafting Experience, 3500 Thieving Experience, and a Promotion to Proselyte.

Proselyte Armor: You can purchase new Pros'yte armor from Sir Tiffy Cashen for 25K GP. For more information on this armor, see the Quest Items section of the Melee Armour Guide


Back to Top