Home
Forums
IRC Chat
Signatures
Goal Signatures
Calculators

Quest Guides
Mini-Game Guides
Miscellaneous Guides
Guild Guides
Treasure Trails
Agility
Combat
Achievement Diaries
Construction
Cooking
Crafting
Farming
Firemaking
Fishing
Fletching
Herblore
Hunter
Magic
Mining
Prayer
Ranging
Runecrafting
Slayer
Smithing
Summoning
Thieving
Woodcutting



By: Tangerz, additions by Mysticallity

Items Required: Combat Gear, 8 Pots, a Tinderbox, 8 Logs or a Woodcutting Axe, Some Coins (more than 50), a Spikey Helm and a Lantern. Some food will help too. I recommend bringing Lumbridge Teleport, Varrock Teleport, Ardougne Teleport, and a Charged Amulet of Glory.
Skills Required: 20 Combat minimum
Quests Required: None

To start this quest, talk to the Odd Old Man Northwest of the Limestone Quarry located on the pass between the Salve Temple and Varrock.




The Old Man appears to be an archaelogist looking for bones to complete his collection for the museum. He has a sack of bones on his back that seems to give him instructions what to say and what to do. Offer to help him finish his collection, and he will give instructions on what to do.

He tells you to bring him a set of bones from the following creatures: Goblin, Bear, Giant Rat, Giant Bat, Ram, Big Frog, Unicorn and a Monkey.

He'll also tell you to go speak to a wine merchant in Draynor named Fortunato.

Finally, the last order he has for you is that you will have to boil the bones in his pot-boiler until they are all polished.

Once you've finished talking to him, bring your combat gear and teleports. Go South to the Southeast Varrock Mines. Kill the Unicorn, the Bear, and the Giant Rats and pick up their bones.




Teleport or walk to Lumbridge. Go into the sheep pen. Kill a Ram that you see and pick up the skull. Once you have done that, head towards the Lumbridge Swamps. You can kill a bear on the path if you want to. There are also some goblins there. Don't forget to pick up the ribs. Go to the Lumbridge Swamp Dungeon. You will need a rope if you have not been down there before, a Spikey Helmet (can be bought from any Slayer Master), some food, and a Lantern. Go west until you cannot go anymore, then go South until you reach a pool of swamp water, and go east until you reach some stepping stones. There will be Big Frogs all around. Kill one of them and pick up the legs.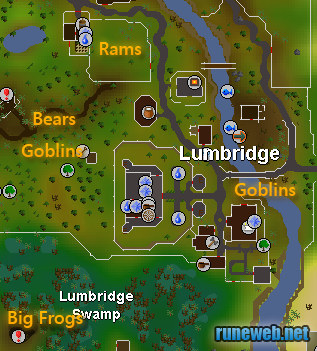 Use your Amulet of Glory to go to Karamja. Either way, kill a monkey and pick up the paw it drops. Don't forget to go inside the volcano to kill the giant bat. Pick up the wing bone.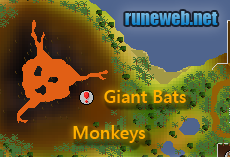 Once you have gotten this long list of bones, go to Draynor. This is why I recommended an Amulet of Glory. Once you are there, go to the market and talk to Fortunato. Ask him about vinegar, and he'll become defensive until you mention the Old Man. He'll sell you Jugs of Vinegar for 1 gp each.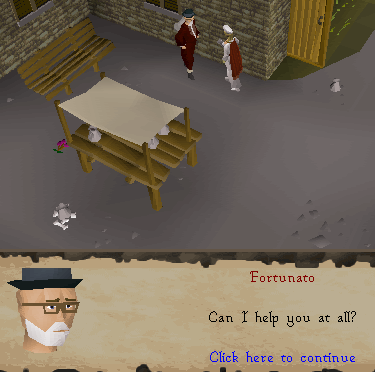 Once you have 8 Jugs of Vinegar, use them with 8 Pots, and discard the empty jugs. Use your bones with the Pots of Vinegar.

Go back to Varrock to the Old Man, this time bringing your pots of vinegar with the bones inside them, an axe or 8 logs, and a tinderbox. Use your log on the pot-boiler, use one of the pots, and then use your tinderbox on the pot-boiler. Wait a while and collect the bone from the pot. Repeat this process until all of your bones are shiny.




Speak to the Old Man again and he'll take all the bones and give you your reward.

Congratulations, Quest Complete!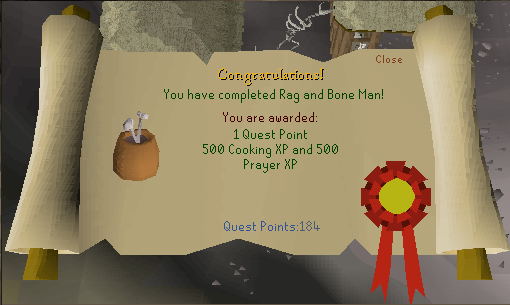 After this quest, you will see a Wish-List pinned up on wall outside of the house.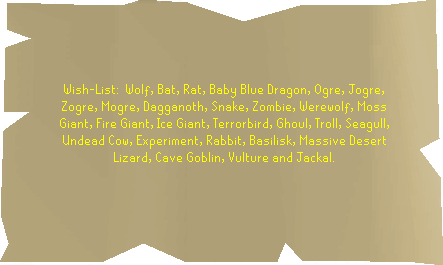 Once you have polished all of these bones and given it to the Old Man, you will completely finish the entire quest.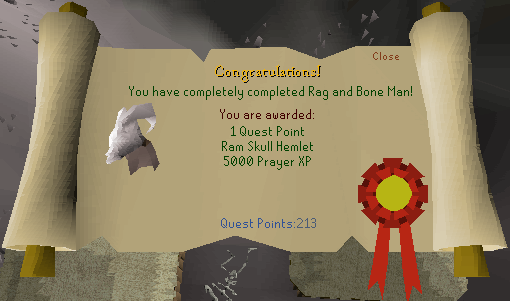 You will get a choice of taking the Ram-Skull Helmet or the Bonesack. You can change them in as many times as you want as long as you have only one item.





The stats of the Ram-Skull Helmet is as follows:


| | | | | | | | | | | | | |
| --- | --- | --- | --- | --- | --- | --- | --- | --- | --- | --- | --- | --- |
| Image | Item | | | | | | | | | | | Requirements |
| | | +0 | +0 | +0 | +0 | -2 | +19 | +21 | +16 | +0 | +19 | None |


The helmet is equal in stats to an Addy Large helmet.

Here is a good picture of the Ram-Skull Helmet on a character:





Inventory Picture: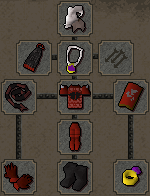 The stats of the Bonesack is as follows:


| | | | | | | | | | | | | |
| --- | --- | --- | --- | --- | --- | --- | --- | --- | --- | --- | --- | --- |
| Image | Item | | | | | | | | | | | Requirements |
| | | +0 | +0 | +0 | +0 | +0 | +4 | +4 | +4 | +4 | +4 | None |


It is sort of a weaker Legend's Cape or Obsidian Cape.




Back to Top