Home
Forums
IRC Chat
Signatures
Goal Signatures
Calculators

Quest Guides
Mini-Game Guides
Miscellaneous Guides
Guild Guides
Treasure Trails
Agility
Combat
Achievement Diaries
Construction
Cooking
Crafting
Farming
Firemaking
Fishing
Fletching
Herblore
Hunter
Magic
Mining
Prayer
Ranging
Runecrafting
Slayer
Smithing
Summoning
Thieving
Woodcutting



By: Acayhar, revisions by Data/Loggy

Start Point: Talk to Hassan in the palace of Al Kharid
Requirements: 50 gp or so, Soft clay, Bronze bar, Rope (OR 15 gp OR 4 Balls of Wool), Ash, Pot of flour, Water, Redberries, 2 onions, Pink skirt, 3 Balls of Wool, 3 glasses of Beer

To start this quest you must first speak to Hassan in the palace of Al Kharid. You can reach Al Kharid by going south-east from Varrock or by paying at the Toll Gate in Lumbridge. The palace is located at the middle-southern part of Al Kharid - its the big building with all the guards. Hassan is located in the biggest room. Osman, who you will need to talk to later, is walking around at the brown region.










Ask Hassan if he needs any help. He says that Al Kharid requires some services and he will pay you if you complete the service. He directs you to Osman, outside the palace. Go talk to Ozzy. He will tell you that Prince Ali has been kidnapped and you must help free her. There are a few things you have to do: you need to make a key to open the prison, get past the guards, disguise Lady Keli as ?, and get yourself out of there. Prince Ali is being held in a prison in Draynor Village (be careful around the prison - the jail guards are aggressive) by Lady Keli.

Leela, Osmanís daughter, will be helping you to get what you need. She is in the crimson (dark red) region. She will give you some tips and info to get what you need.










Soft clay can be obtained by mining it (in the Dwarven Mines) and using water on it, and you can easily get a Bronze bar by smelting a copper and tin ore in a furnace.






You can get balls of wool by using a pair of shears on a wooly sheep then spinning it on a spinning wheel. You can acquire a rope from Ned (located in the blue region) for 15gp or by bringing him 4 Balls of wool. He will also make a wig that you'll need for the disguise for 3 Balls of wool.






Ash can be obtained by killing a Imp/Lesser Demon/Greater Demon or by letting a fire burn out. You can get a pot of flour by going to a windmill (there's one north east of Draynor Village) and use a grain on the hopper (located at the top floor), operated it and putting the flour in a pot.





Water can be obtained by using a Jug/Bucket with a sink/fountain. You can also fill a bucket by using it with a well. Redberries can be obtained by going south-east of varrock, east of Darkwizards. There is a red berry bush you can pick for the berries.




You can get onions on the field marked by a yellow circle. A pink skirt can purchased from the clothes store in Varrock for 2gp. You can get beer from the barbarian pub or you can buy one from any pub in Runescape for 2gp.






When you have all of this, you need to make some things out of it. To get the wig from Ned dyed (take three balls of wool to him and ask what else he can make if you don't have the wig), you will need a yellow dye. Aggie (marked by the green region) will make you some for 2 onions and 5gp. Use the dye on the wig. She will also provide the skin paste needed for your ash, pot of flour, water and redberries.





To get the key, you need to have the soft clay in your inventory. Talk to Lady Keli, and choose the most flattering options, and eventually you can ask her to show and touch the key. You will then have to take it back to Osman and Leela will give you the key.

When you have all this (the key, the blonde wig, the skin paste, a rope, a pink skirt, and three beers), you will need to find a way to distract the head guard. Talk to the guard named Joe and offer him all 3 glasses of Beer.





Now use your rope on Lady Keli and use your Bronze key on the gate. Talk to the prince and you will give him your disguise, and you'll both get the heck out of there.





Talk to Hassan to receive your reward.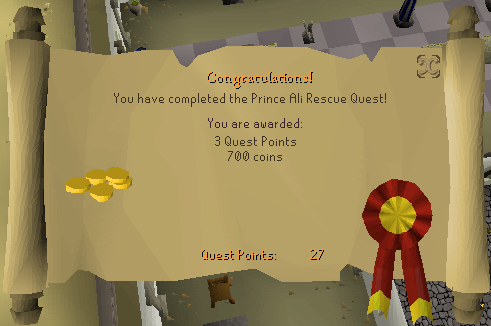 Congratulations! Quest complete!

Reward: 3 Quest Points, 700 gp, free access of the Al Kharid Gate (you don't have to pay 10 gp anymore)


Back to Top