Home
Forums
IRC Chat
Signatures
Goal Signatures
Calculators

Quest Guides
Mini-Game Guides
Miscellaneous Guides
Guild Guides
Treasure Trails
Agility
Combat
Achievement Diaries
Construction
Cooking
Crafting
Farming
Firemaking
Fishing
Fletching
Herblore
Hunter
Magic
Mining
Prayer
Ranging
Runecrafting
Slayer
Smithing
Summoning
Thieving
Woodcutting



By: Makoto

Start Point: Talk to King Bolren, in the Tree Gnome Village
Skill Requirements: 45 Agility, 47 Ranged, 60 Strength, 56 Slayer & 56 Thieving
Quest Requirements: Must have completed the The Eyes of Glouphrie and Waterfall Quests
Items Required: Sextant, Watch, Chart, Mithril or higher Crossbow, Mithril Grapple, Combat Gear (recommended at least Initiate Armor and Prayer potions), Crystal Saw
Fights: Three level 140 Terrorbirds
Note: If you are not in possession of a sextant, watch, or chart, please reference the Treasure Trails Coordinates Guide on how to get those items.

To begin, talk with King Bolren in the Village. For those of us that don't remember, that's the weird little hedge maze that kept Khazards' troops out of Gnomish lands so long ago. You'll notice him with those "evil" creatures that we dispelled in the Eyes of Glouphrie.





You tell Bolren the truth about this "cute" pet of his, while he is obviously blinded by affection, love, and other feelings that a pet owner would have about their animal.





I knew he wouldn't believe me. Of course, it'll take some convincing to get him to see the light, so you suggest that you remove the illusion. Don't suppose that Bolren has one of those things lying around, do you?





It turns out that Yewknock, Oaknock's son, built a device similar to that of his father's in the Stronghold. However, Gnomes are forgetful of their past, and you'll need to track down Golrie, that good ol' Gnome. He can be found just outside of the Village, where the giant ! lies. Before you progress, however, make sure to get your Crystal Saw (or tiny seed) from your bank; it'll come in handy in the following parts.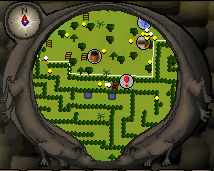 Over the course of your convo, you learn that Golrie gets elven artifacts, trinkets and whatnot from his grandfather. Too bad he hasn't seen or heard from him in a while. But, as any good pack-rat knows, you can always find your stuff in large boxes in a storeroom. Or in this case, a strongroom.





Head on through the cavern to the north of the room and you'll find yourself in the Strongroom.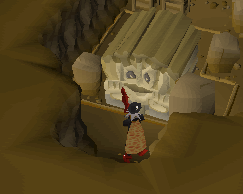 Creepy. Anyway, you'll need to be moving these monoliths out of your way to continue. Search the crates along the way to find Crystalline disks.



Push the first one you encounter one step north.


Push the monolith on your left (facing north) one step north.


Push the monolith above the one you just pushed (northern one) one step east.


Search the nearby chest for a key and a book.


Push the small monolith one step south.


Right-click the crystal font and, if your crystal is not yet a seed, you must revert it and then sing. If it is a seed, you may simply sing.





Just above the small monolith (north), push the big monolith next to it two steps west. Open the Mahogany Chest.


Below that, push the monolith one step west.




With all of that said and done, head on over to the gate and open it. Behold -- you have found Yewknock's machine. Like father, like son, eh?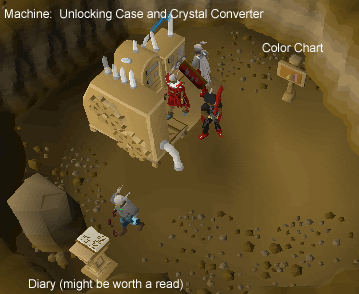 This puzzle works the exact same way Oaknock's machine does. What you do is take the shape of the crystal and multiply that against the value of the color. The exchanger works the same; it breaks down the colors and shapes of whatever you present to it to equal that number.


| | |
| --- | --- |
| Color Chart | Value |
| Red | 1 |
| Orange | 2 |
| Yellow | 3 |
| Green | 4 |
| Blue | 5 |
| Violet | 6 |
| Indigo | 7 |


(Example: I have a red pentagon. That value is 5 (1 times the number of sides, which is 5). I have an Indigo Triangle, which is equal to 21 (7 x 3).

After you solve this little bit of a math exercise, you will see a short cutscene about how right you were.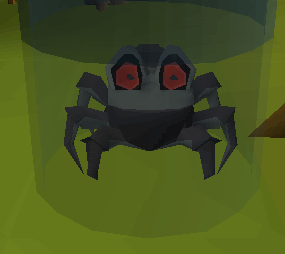 Push whatever monolith out of the way or teleport and continue (with haste) to Bolren. You discuss the previous encounter with these weird things. Of course, he feels kind of left out that he didn't get spied on nearly as much as Narnode did...but at least his resolve to settle things with Glouphrie remains ironclad.

Now, it's time to hunt for the lost city of Arposandra, which is, if we recall correctly, hidden from the world by powerful magics used when the Gnome race was still young! Luckily for you, Aluft Gianne Jnr. is on the case. He may know where Longramble is, the only explorer that knows where to look for Arposandra.





Turns out he has a longstanding order for this guy. Time to put your navigational skills to use! The coordinates are as follows: 2 degrees, 7 minutes south; 3 degrees 7 minutes west. Get your crossbow, grapple, sextant, watch, chart, and teleportation devices (ring, runes) and get ready to hunt.

To save you a bit of time, teleport to Castle Wars and walk to the southwest, or use the Fairy Ring Combination BKP to come to a grapple tree. Of course, we're going to grapple it and cross on over. Once you're over, you'll almost immediately run into Longramble.




For a gnome, he sure does have a weird ambition. And he has weird logic about how the world is "flat". After a little bit of chit-chat, you'll inquiry about Arposandra. He raises an interesting point about the Waste Swamp -- only Elves live in that region, and pollution to Elves is equal to Greenpeace using some sort of nuclear-powered harpoon for any reason whatsoever.





Walk a little bit more north and you'll run into a spirit tree, that continually calls out to you.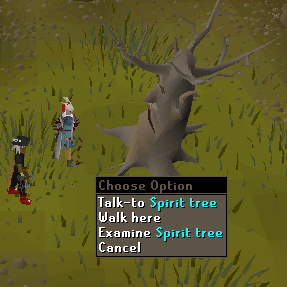 Poor guy. Have a chat with him and you'll learn that the very ground he's growing from is tainting him, and thus cutting him off from his other brethren. You wonder what Hazelmere will do, and sure enough he pops up in your mind.





He immediately picks up on the unwell tree. A small cutscene takes place and you fully mind meld with the tree. Hazelmere goes and tells you that Elven magic is required from this part; this is no normal poison that has corrupted this tree.





If you have already made the chime, then that is fortunate for you; a lot less walking. If not, go ahead on back and do so now. After you acquire the chime, simply ring it to see a short cutscene of you healing the tree. This tree is now usable for teleportation under "Mountains East of Poison Waste".




Use the tree to teleport back to a bank (Stronghold), and gear up for the final battle! Don't forget your chime, whatever you do.

Head back to the swamps via the Spirit Tree. Follow the path through the maze. Keep in mind that Protect-Range will keep you mostly shielded from the lesser Warped Terrorbird attacks. Note that you cannot run through the tar, and the holes on the sides of the caves are NOT good places to wander by. Head east when you reach a junction of four rooms.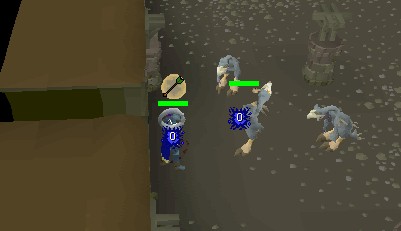 Note you cannot teleport out of this fight!

You will need to fight each one separately. Since they're warped, they must be "purified" by using your crystal chime on them. This will make them attackable for about 30 to 45 seconds, after which they will revert back to being immune to your attacks. After they become immune, you must use your chime on them again.

After the battle, have a peek through the door. You're going to semi-enjoy this convo...up until the noxious fumes and the tar get to you, that is. Thank goodness that Hazelmere comes to the rescue! After he saves you, he tells you of his vision:




Quest Complete!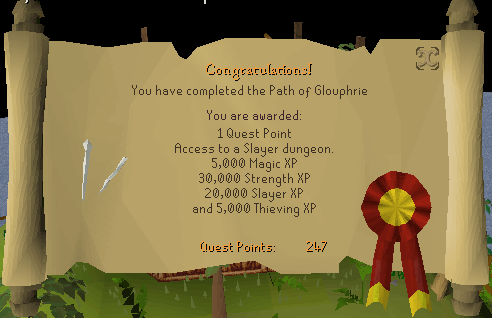 Reward: 1 Quest Point, access to a Slayer Dungeon, 5K Magic Experience, 30K Strength Experience, 20K Slayer Experience, and 5K Thieving Experience

Back to Top