Home
Forums
IRC Chat
Signatures
Goal Signatures
Calculators

Quest Guides
Mini-Game Guides
Miscellaneous Guides
Guild Guides
Treasure Trails
Agility
Combat
Achievement Diaries
Construction
Cooking
Crafting
Farming
Firemaking
Fishing
Fletching
Herblore
Hunter
Magic
Mining
Prayer
Ranging
Runecrafting
Slayer
Smithing
Summoning
Thieving
Woodcutting



By: Paulina S and Drunksk8erbo


Start Point: Olaf Hradson, who is Northeast of Rellekka (faster to use the Fairy Ring Combo DKS)
Items Needed: Tinderbox, Hatchet (any metal), Spade, Food for Olaf (acquired during the quest), Equipment to face a level 100 melee-oriented Skeleton
Skill Requirements:Level 50 Woodcutting, Level 40 Firemaking, high Agility is an advantage
Quest Requirements: The Fremmenik Trials


Go north-east of Rellekka and talk to Olaf.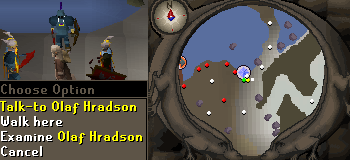 Olaf's ancestors were great adventurers and explorers. He wanted to prove he's as good as they were, so he recently set off on his first voyage. But a strong storm destroyed his ship – now he sits on the shore, thinking how to avoid the humiliation of failing. Agree to help him.

Olaf wants you to bring him some logs from a tree just to the east. Cut some logs from it and bring it back to him. He will carve two sturdy figures from them and ask you to bring them to his wife and son, so they believe he is far away, on an exotic island.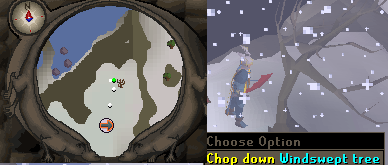 Ingrid Hradson is just east of the entrance to Rellekka. She will reward you with some bread. Volf Olafson is in the northern part of Rellekka, by the shore. He will reward you with a cooked shark.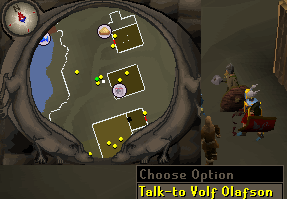 Go back to Olaf. He is freezing – you need to light a fire for him. Use the fireplace next to him and the logs he gave you.

Now Olaf will want some of your food. Once you give it to him, he will give you his grandfathers treasure map.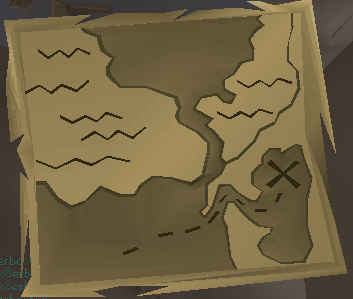 The X on the map marks a place 2 spaces down from the tree that you chopped earlier for Olaf. Dig there with a spade and you will fall down to a big cave.

Keep to the east path until you come to a wall with a picture on it.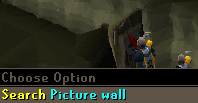 What you need to do is pull the levers next to the image of the skull in the order shown on the screenshot.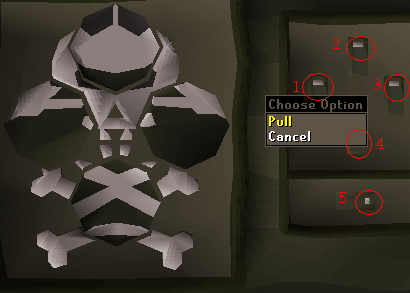 Go north, to the shore. You will find a broken, slippery bridge (if you fall of the bridge, you will find yourself north of Olaf – just go back). You need to fix it with 2 rotten barrels and 6 ropes which you will find under the wall.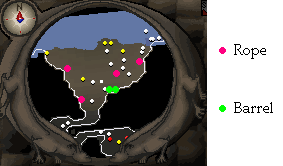 Use your ropes with two broken places on the bridge. You will come to a closed gate.

Go back to the cave and kill any Skeleton Fremennik (level 40). They will drop a key to the gate.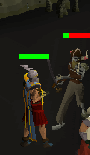 Go back to the gate. Click on the keyhole that resembles your keys shape.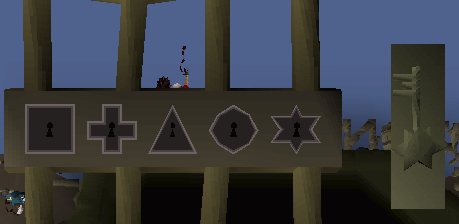 Go to the other side of the bridge. Open the chest in the middle of the cave.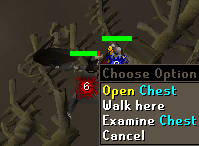 Kill the level 100 skeleton, Ulfric.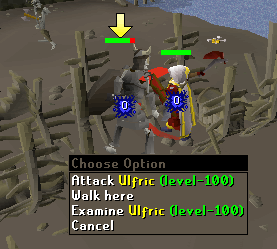 Congratulations, you finished Olaf's Quest!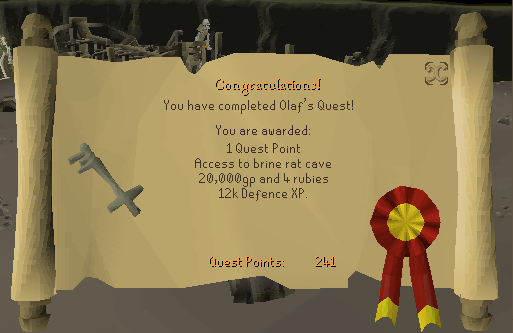 Reward: 1 Quest Point, 20K GP, Access to the Brine Rat Caves, 4 Rubies and 12K Defense Experience.


Back to Top