By: Geo1988, additions by Data/Loggy



Start Point: Talk to Burntmeat in the kitchen of the Troll Stronghold (basement of stronghold)
Items Needed: Climbing Boots, 7 Supercompost Buckets, 3 Buckets of Camel Dung *, a Spade, a Seed Dibber, a Rake, Plant Cure, 60% Favor in the Tai Bwo Wannai Minigame (machete required for the mini-game), Gloves or Gauntlets
Skills Needed: Level 10 Woodcutting and Level 29 Farming
Quest Requiments: Eadgar's Ruse Quest, The Feud Quest, Jungle Potion Quest, must have at least 1% favor in the Tai Bwo Wannai Minigame

* - The buckets of Camel Dung can be obtained much quicker if you have completed the Enakhra's Lament Quest, but it is not required (you will need a Camulet to use this easier method):




Head to Al Kharid with your Camulet equipped, and speak to Al the Camel, just outside the bank. Ask him if he would "give" you some camel dung. He will provide you with enough for three buckets full. If you have not completed Enakhra's Lament, you will need to obtain the camel dung from the camel area in Pollnivneach. Use the The Feud Quest Guide to aid you in completing this task.

To begin this quest, head to the Troll Sronghold either by teleporting to Trollheim, or heading west of Burthope (with Climbing Boots equipped). When you arrive at the Troll Stronghold, head south through the corridor, and down the stairs
and speak to Burntmeat.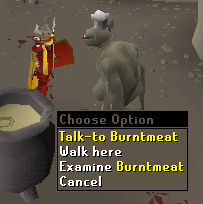 When you speak to him, you will need to do him another favor he says, and get him goutweed. At this point, he will tell you that when he was attempting to cook an adventurer, he was told that he was able to grow goutweed. After rambling on about it, he speaks of his assistant, My Arm. He wants you to help him grow goutweed. After speaking with Burntmeat, head just east of Burntmeat, near the prison gates, and speak to My Arm.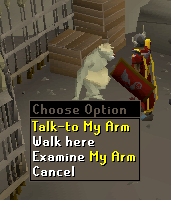 Before talking of serious matters, My Arm tells you that he got his name when he attempted to chew off his father's arm. After some brief conversation, he wants you to head to the Death Plateau to search the large cooking pot in the center for the 'goutweedy lump'. He will then tell you to talk to Burntmeat again, for good directions. When you speak to Burntmeat, you may or may not ask him 'This place is a maze - got any advice?' If you do, he will give you his directions to the Death Plateau.

Burntmeat's Directions (Make sure you wear Climbing Boots):
When you ask him this, he will tell you to go side the north door of his kitchen, and walk all the way down the corridor. He then tells you to turn right at the end, head down the stairs to the prison. Walk straight through the prison; the back door of the stronghold is at the south end. Once outside, turn left and head a long way south-east along the path. At the end of the path, turn right and follow that path to the Death Plateau. (The Death Plateu is the big flat area with a bunch of trolls and some shelters.)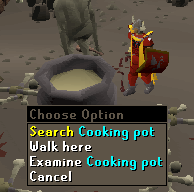 When you arrive at the Death Plateau, search the large cooking pot with an Empty Bucket in your inventory. When you fish around in the pot (make sure you are wearing gloves), you will pull out the 'goutweedy lump'. After you have the lump, head back to My Arm and give him the goutweedy lump. It turns out, he was just trying to see if the goutweedy lumps were actuall goutweed. He then will ask you to help him grow one. After some small talk, he will lead you to his farming patch outside the stronghold. When you arrive, head north and speak to My Arm again. He will give you a book to read, 'Farmer Gricoller's Farming Manual'. If you flip to page 13, it will talk about soil preparation for the mountain area.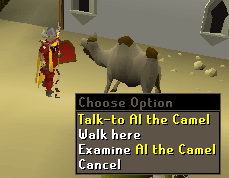 Note: My Arm's Farming Patch is located up the ladder just before you reach the area where the (level-113) Troll Generals are located.

Speak to My Arm again, and you will tell him that you need three buckets of camel dung along with seven buckets of supercompost. At this point, Enakhra's Lament Quest would be advantageous to have been completed, if you don't already have the dung (if not, see the note at the beginning of the guide on getting compost).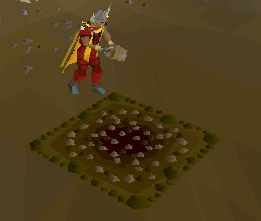 Head back the the Troll Stronghold and back to My Arm's farming patch. Use your three buckets of 'Ugthanki Dung' and seven buckets of Super Compost on the patch. Once you have completed that task, speak to My Arm again. He will tell you that you both need to speak to Murcaily in Tai Bwo Wannai. My Arm will then take you all the way to Ardougne. Then, after scaring Captrain Barnaby, you will be on the ship. When you are riding on the ship, My Arm will discuss his theory of Troll Pirates and Sea Trolls. He will then start pestering you, asking if they have arrived yet. You will finally arive to be abandoned by My Arm.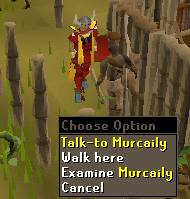 Head south of Brimhaven to find My Arm, located just east of the General Store. After speaking with him, head sotuh into the village, and speak to Murcaily. You two with argue back and forth about My Arm and goutweed. He will eventually tell you that you need a harder Gout Tuber to survive in the mountains. If you have more than 60% favor in the village, he will give you a hardy gout tuber. If you do not, you will need to gain favor in the village by hacking away at the brush with a Machete if you were doing the Tai Bwo Wannai Minigame.

After you have recieved the tuber, you will see My Arm in a cut scene destroying whatever is in his path, eventually ending up with you have many more hardy gout tubers. He then tells you that you both need to return to the patch, but first he explains to you his situation with the bird in the mountains. He tells you that there was a big bird that kept coming out and you will need some armor, weaponry, and food. You will then be placed back on the ship, dealing with My Arm's "Are we dere yet?" questions. When you arrive in Ardougne, head to the bank and equip yourself for a fight.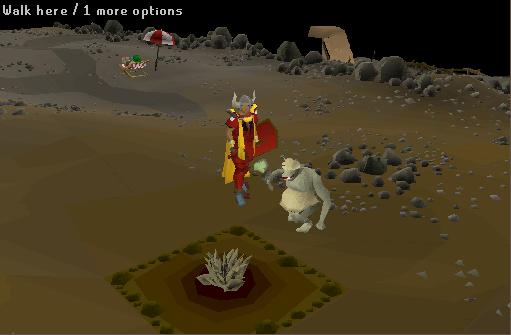 Head back to the Troll Stronghold, and to My Arm's farming patch. Speak to him again and he will ask you to walk him through the steps of farming. Use a Rake with My Arm to clean the patch. Then, use the Hardy Gout Tubers with him. When he has taken the tubers, use your Seed Dibber with him. After he plants the tubers, you will witness him knock out a dwarf random event. After that, you will notice his plant has become diseased. Use some Plant Cure on him to cure the plant. Afterwards, he will inform you that the birds are watching them.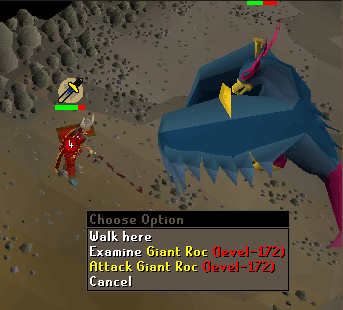 You will be confronted with a (level-76) Baby Roc. Kill it and My Arm will be grateful that you saved his plant. However, after you have killed the Baby Roc, its mother will come. The Giant Roc, (level-176) is not an easy task. It knocks you back and stuns you, as well as hurls boulders at you. Attempt to attack it head on with protect from missiles, eating as it knocks you back and engaging it again. After awhile, My Arm will help you defeat the Giant Roc. If it knocks you away from the patch and My Arm, it may be useful to run back over to My Arm, so he can assist you in attacking - he may not do that much damage but it can help.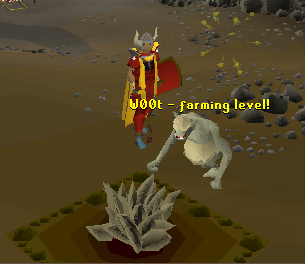 When you have killed the Giant Roc, use your Spade with My Arm so he will harvest the patch, gaining a farming level, as well as giving you some farming experience as well. After he eats the goutweed he just grew, he will tell you to head back to Burntmeat to inform him of the news, and maybe a reward. When you tell him the news, he will give you a "special" reward... loads of burnt meat. After you manage to drop all the burnt meat Burntmeat gave you, head back up and speak to My Arm. My Arm will tell you a secret about herbs. He also build you your own herb farming patch that he will make sure it never gets diseased.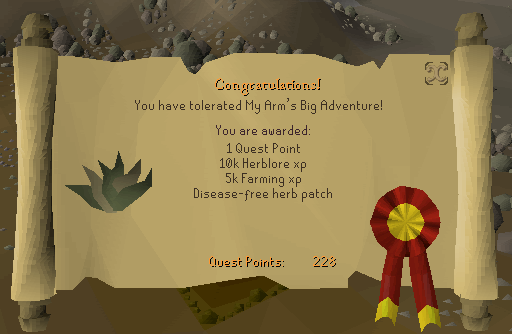 Congratulations! Quest Complete!

Rewards: 1 Quest Point, 10K Herblore Experience, 5K Farming Experience, access to a Disease-Free Herb Patch (right next to My Arm's patch)


Back to Top