Home
Forums
IRC Chat
Signatures
Goal Signatures
Calculators

Quest Guides
Mini-Game Guides
Miscellaneous Guides
Guild Guides
Treasure Trails
Agility
Combat
Achievement Diaries
Construction
Cooking
Crafting
Farming
Firemaking
Fishing
Fletching
Herblore
Hunter
Magic
Mining
Prayer
Ranging
Runecrafting
Slayer
Smithing
Summoning
Thieving
Woodcutting



By: Seiferoth, additions by Loggy/Data

Start point: Speak to King Narnode Shareen in the Grand Tree of Gnome Stronghold
Requirements: Must have completed The Grand Tree, Must have completed Tree Gnome Village and Able to Defeat a Level 195 Demon, 43 Prayer (Necessary!)
Items Required: Gold Bar, Ball of Wool, Monkey Corpse/Monkey Bones (From any Karamja Monkey), Prayer Potions, Antipoison and food recommended
(Note: You get Monkey Bones from Karamja Monkeys before you complete Tai Bwo Wannai Trio Quest, You get Monkey Corpse from Karamja monkys after a certain point in Tai Bwo Wanni Trio Quest, so either of the items will work.)

Map of Ape Atoll: Click Here

Ape Atoll Tips:

- When human and traversing through Ape Atoll, always have Protect from Range on to be protected from the monkey archers
- Avoid any gorillas in the city - if you get close enough they will knock you out and you will be put back in the cell
- Always have antipoisons, prayer potions, and some food handy


To start Monkey Madness, Head to the Grand Tree of Gnomestronghold and talk to King Narnode. He tells you that he sent an envoy of his 10th squade of elite soldiers to the shipyard where Glough's evil plans were taking place before, but they never sent word of their arrival at the shipyard, and never came back.

(He'll give you a Gnome royal seal as proof that you're part of his envoy. - Never drop this until the end of the quest, you will need it throughout the quest.)

Chapter 1:



Head upstairs and take the glider to Karamja (Gandius). North of the glider will be the shipyard.

Once you get to the shipyard, try to open the gate and a worker will inquire you about why you're here, show him the Gnome royal seal and he'll let you through.

Once inside, speak to G.L.O. Caranock, located in the nearby building. You'll tell him about the 10th Squad and Glough, and he'll tell you the shipyard will be decommissoned, and strong winds might've sent the 10th Squad off-course.

After speaking with Caranock, go Back to King Narnode in the Grand tree. Speak with Narnode and tell him of Caranock and his story. It seems a bit suspicious but that's all the information you have now, he'll write you orders on a scroll of paper to give to Daero (the new High Tree Guardian).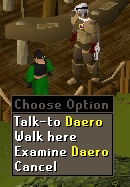 Daero can be found upstairs by the bar, speak to him.
Give him the orders and he'll tell you that due to your recent performance in helping the last threat, that you must undertake a reconnaisance mission.

(He explains how you're to be taken FAR south of karamja, to investigate Caranock's claim that Garkor's squad were blown off course.)

GO THROUGH ALL THE OPTIONS WHEN SPEAKING TO DAERO, when you are done click the Leave option and he'll tell you about his comrade, Waydar, and that you need to be blindfolded before you go there to meet him for security reasons.

The screen will fade as you put on the blindfold, and you will appear in the Underground Military Glider Hangar.





Speak to Daero. He will tell you of why the Hangar exists and that you will need to wait until reinitialisation is complete before you travel to search for the 10th squard. Waydar suggets the only person who can decode it is Glough.

After speaking, Search a crate by Reinitialisation Panel with the examine "This crate is marked 'Deliver to Glough'...' You will find Spare controls.




* The Spare Controls will help you do this "Puzzle" on the Reinitialisation Panel by giving you the finished product:



Operate the Reinitialisation Panel and do the puzzle. Once you complete it, the screen will shake and the gliders will open up and such.

(Note: If you are having trouble, you may have Glough of Gnome Stronghold do the puzzle for you remotely for 200,000 coins - Not worth it if you can figure it out. Click here to find Glough's House)

Talk to Daero after the whole process and he will tell you that when you're ready to go into the unknown, speak to Waydar.

* WARNING: Before you continue, Waydar warns you, he only has provisions for himself and that you should stock up on food before the dangerous journey. Use the Teleportation Device to get back to Gnome Stronghold and get Weapon/Armor with Food and Potions(Prayer & Antipoison Recommended), when you're done speak to Daero again to go to "Crash Island". *

When you are there speak to Lumbo. He will tell you the 10th Squad was indeed blown off course, collected enough wood to make 2 small boats. All the squad except Lumbo sailed west to the island, and won't leave his post, thus refusing to help.

Speak to Waydar, and convince him to make Lumbo help you.

(Here is where Chapter 1 ends and they show you a sort of mini-movie where the Foreman of the shipyard and Caranock are plotting to keep the shipyard running, and to dispose the human helping the King! Buahahaha.. I mean Oh no!)
Chapter 2:


Welcome to Ape Atoll: Click Here for Map
Don't forget the Ape Atoll Tips listed above.

Run west until you see a path between two hills heading north. Try to enter it and you'll be shot with poisoned arrows and be in some type of jail...

Talk to Lumo and the gnomes and they'll tell you the monkeys are as dense as bricks. Lumo will tell you to attempt to pick the lock while the monkeys aren't paying attention.

Pick the lock and run out of the jail while both guards are in the far room (while they 'switch shifts'), circled below:




Remember to put Protect from Missilies on to avoid damage from Monkey Archers, as well as try to avoid the gorillas (they will knock you out and put you back in the cell if you get close enough).





Run Southeast of the jail, North of the grave, East of the building and find Garkor and speak to him. He'll tell you that 3 of his men are captured and watched over by overpowering guards, and something bigger is afoot. He'll tell you to find his squad mage Zooknock, who is underground with the sappers and ask him to disguise you as a monkey.





Head south of Garkor by the Graveyard and find a ladder, go up it and jump off the edge of the bridge, then head southwest until you see a dungeon on the minimap marked by an exclamation mark, run through the cave with protect from melee on, a few energy pots for this part would be nice too, if you have. Once you're at the end of the cave you'll find Zooknock.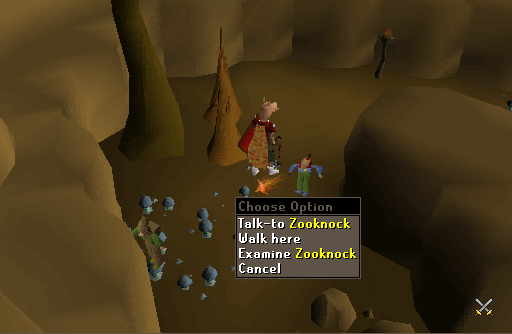 Speak to Zooknock, he'll ask you your story, and you find out that the king actually asked you to go so the squad could use your for a spy (Garkor is still in contact with the King). He'll say you need a gold bar, a monkey amulet mould and something to do with monkey speech to be able to go undercover as a monkey. He'll say you need monkey remains and a magical monkey talisman too from the village.





Head back into the city, the best way is to teleport out and come all the way back, rather than run through that cave again.

Getting into Ape Atoll: To return to the city proper, you must be recaptured by the monkeys at the gates. You must go through Zooknock's cave three times total, and be captured at least twice.

Amulet:

Gold Bar: Should have brought with you.
Something to do with Monkey Speech: South of Jail, there's a big house with crates in it, enter through the back door and hide on the east side of these crates then search for the Monkey Dentures:




Monkey Amulet Mould: South of Jail, there's a big house with crates in it, enter through the back door, and search the very southeast crate and go down the hidden passage:




Then while you're there search the crates in the northwest corner:




Once you get the items for the Monkey Amulet, head back to Zooknock's cave and give them to him, he'll enchant the gold bar and tell you, you need to craft the amulet in a place sacred to the monkeys.

Go into the Temple in the east of the Town (switch from Ranged Protect Prayer to Melee Protect during this part) and manage your way through the guards to get to the trap door (they're unpassable so you MIGHT have to kill one), once you're down there, use the enchanted gold bar on the wall of flames to make an amulet of M'Speak then use the ball of wool on it and wear it.




Talisman:

Authentic Magic Monkey Talisman: After you've made the Amulet of M'speak, Go to the Northwest side of the town and speak to the child monkey twice(make sure the Aunt can't see you - only talk to the child when she ISN't in the yard) and tell him "Well I'm a Monkey's Uncle".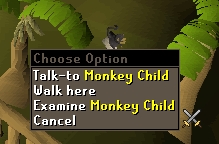 He'll say his aunt wants him to collect bananas and he'd get a toy from the magic shop and that she wants twenty bananas, Agree to get him the bananas for him if he'll let you borrow his toy.

Search the banana trees by the child monkey and get as many bananas as you can hold, then you can give him 6 and say there's 20 there. He'll be pleased and believe you since he can't count. Go back into hiding so the Aunt can't see you.

Wait for the Aunt to walk around into the yard once and back out, then talk to the child again and "borrow" his talisman.

Some Monkey Remains: Get a monkey corpse or bones from any monkey on Karamja.

Once you get the items for the Monkey Talisman, head back to Zooknock's cave and give it to him and he'll enchant it and you'll be able to turn into a monkey.

(If you want to turn into any of the other Monkeys, you'll need the bones of the monkey of your choosing and you'll have to go back to the monkey child and say you lost the toy and wait until he gets a new one - which is when the Aunt comes into the yard after you've told him you lost it. You can also be extremely dumb and instead of getting free ones, you can purchase them for 1000 Coins at the Ape Atoll Magic Shop)


(Here is where Chapter 2 ends and they show you a sort of mini-movie where the Waydar, the Flight Commander and Caranock are plotting to keep Glough's Plans in motion for their greedy needs, and to dispose the human helping the King! Buahahaha.. I mean Oh no!)
Chapter 3:


Turn into a monkey and head into the Ape Atoll. Note that as a monkey, you will not be attacked by the random creatures on the island, nor the ninja monkeys.

Walk to Garkor and speak to him, he'll ask you to request an audience with Awowogei by proposing an alliance from the monkeys of Karamja.

Talk to the Elder Guard right by Garkor, he will tell you that you need to speak to Kruk to get an audience.




Walk to the entrance of Ape Atoll (the big gate between the two hills) and head up the hill to the west. Climb up the ladder and cross the bridge to the east tower and go down the ladder.

Speak to Kruk, and say you propose an alliance to gain an audience with Awowogei.

During the audience, Awowogei asks you to free one of your own kind from the Ardougne Zoo.

Head to Ardougne Zoo and transform into a monkey and talk to the Monkey Minder and he'll put you in the monkey cage. Talk to one of the monkies and put him in your backpack. (WARNING: You cannot teleport with a monkey in your backpack.) To exit, transform back into a human and speak with the Monkey Minder.




Head back to Ape Atoll, and talk to the Elder Guard to speak with Awowogei. You have his favor and he tells you he wiill contact you when he has decided to accept your proposal.

After you have another audience with Awowogei, speak to Garkor, he will tell you of the horrible situation that happened whilst you were saving the monkey in Ardougne.


(Here is where Chapter 3 ends and they show you a sort of mini-movie where the Waydar, the Flight Commander and Caranock are meeting with Awowowgei, and provide him with an evil plan so that the gnomes can finally attack the human race! Ahahahahaha!... I mean Oh no!)
Chapter 4:


After the mini-movie, Talk to Garkor again. He will give you the 10th squad sigil so that you can be teleported with them to help, when the trap is sprung!

WARNING: Garkor says prepare as much as you can, and when you are ready put on the sigil and you shall be teleported along with them for... THE FINAL BATTLE! Use this time to bank, and prepare with sharks, supers, etc. Whatever you plan on using to fight Glough's level 195 Demon!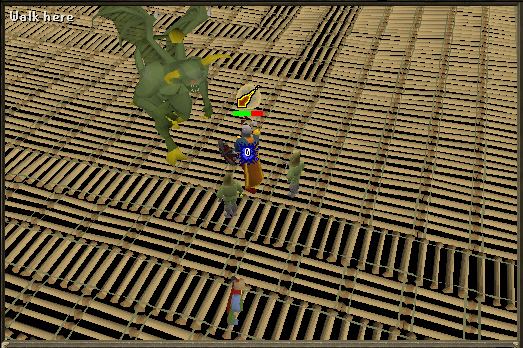 (Note: If you somehow die, or lose your 10th Squad Sigil, you can obtain a new one from Waymottin the Gnome at the end of Zooknock's Cave)

Once you put the Sigil on Ape Atoll you will be teleported to the final battle where you must fight a level 195 Demon! He isn't too hard, I recommend using Melee with Melee Armor and using Protect from Magic. The demon does fight with both magic and melee, so you *will* take damage.

After defeating the Jungle Demon, Talk to Galkor, he will tell you to report to King Narnode and that Zooknock will teleport you out of the battlefield.

Either now you can walk back or teleport out, but go back to King Narnode! Quest Complete!
King Narnode will give you the first half of your reward and will direct you to Daero for the second half!




Rewards: 3 Quest points, 10,000 Coins, 3 Diamonds, Daero's Training and the ability to wield Dragon Scimitar

Speak to Daero and he'll give you the option of Strength and Stamina or Attack and Defense, read below in the rewards for more information on your choices.

Daero's Training: Speak to Daero and he'll simply give you an option to train with him once:
If you choose Strength and Stamina you shall recieve 35,000 Strength Experience and 35,000 Hitpoints experience with 20,000 Defense Experience and 20,000 Attack Experience.
If you choose Attack and Defense you shall recieve 35,000 Attack Experience and 35,000 Defense experience with 20,000 Strength Experience and 20,000 Hitpoints Experience.

Dragon Scimitar: After you complete Monkey Madness you have the ability to wield and purchase a dragon scimitar. You may purchase it from Daga's scimitar stall on Ape Atoll for 100,000 Coins if you speak to him and ask about Dragon Scimitars or trade-him and buy one from his stock.


Back to Top