Home
Forums
IRC Chat
Signatures
Goal Signatures
Calculators

Quest Guides
Mini-Game Guides
Miscellaneous Guides
Guild Guides
Treasure Trails
Agility
Combat
Achievement Diaries
Construction
Cooking
Crafting
Farming
Firemaking
Fishing
Fletching
Herblore
Hunter
Magic
Mining
Prayer
Ranging
Runecrafting
Slayer
Smithing
Summoning
Thieving
Woodcutting



By: ffbf, additions by Data/Loggy

Start Point: Talk to Sylas in Taverly
Quest Requirements: Must have completed the Witch's House quest
Skill Requirements: Level 45 Farming, level 52 Herblore, level 58 Thieving, level 59 Agility, level 71 Woodcutting
Item Requirements: 2 Water Filled Vials, 2 Tarromin Herbs, leather gloves, 2 shrunk ogleroots, seed dibber, watering can, axe (any kind)

To start this quest, talk to Sylas, in Taverly. He will ask your help to get 2 items - in return he will give you magic beans.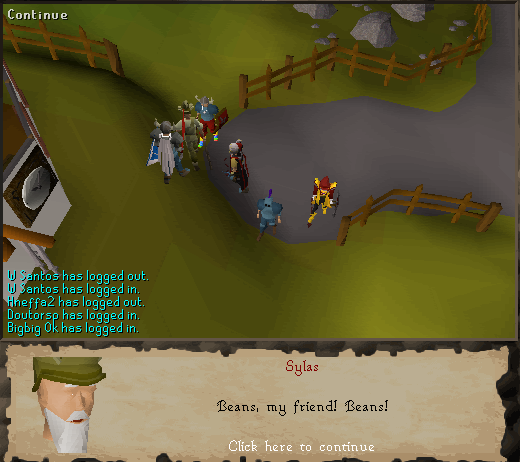 He explains he needs a Griffin feather and a helmet from a dwarf called Rupert the Beard. Go to White Wolf Mountain to first obtain the said feather - the Griffin is located in a north east peak.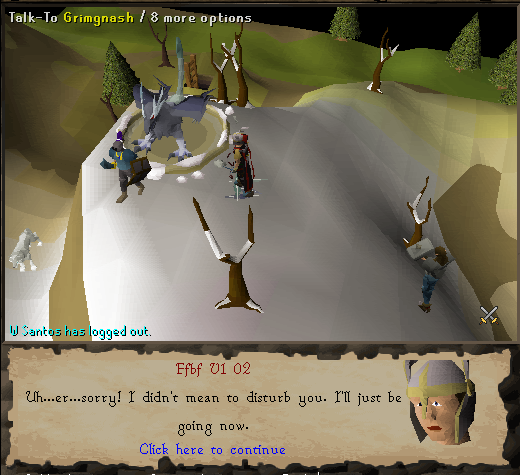 The Griffin will not let you take any of his feathers without first telling him a bedtime story.





You will need to answer a series of questions - if you answer wrong you will be hit for some damage. Start talking about a graveyard.





Skullrot is the name you need to say.





Insane is the word you need to use to describe Skullrot.





Grimgnash really hates gnomes - use that in your story.




Poor gnome - have him strangled in your story next.





Next answer, mention a hole that the gnome could fit through.





Grimgnash will eventually fall asleep - when he does, you are free to take a feather. Now you need Rupert's helmet.

Go between the ice mountain and goblin village as Sylas told you. You will find this tower with a really annoying princess outside - talk to her.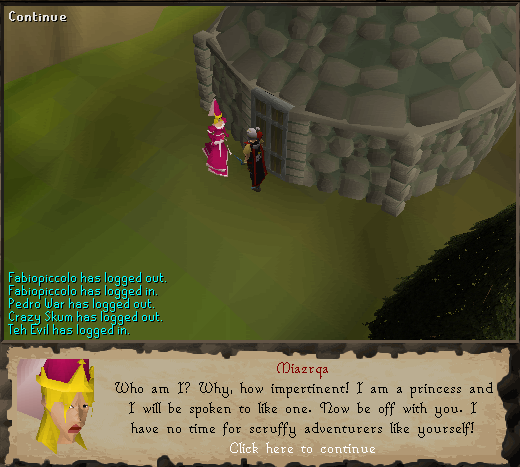 Climb over the wall.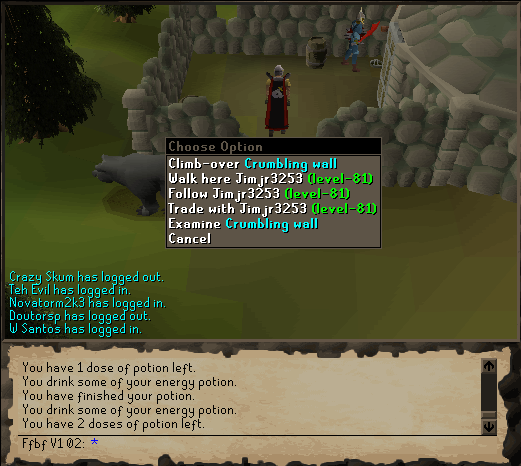 And talk-into the drain pipe.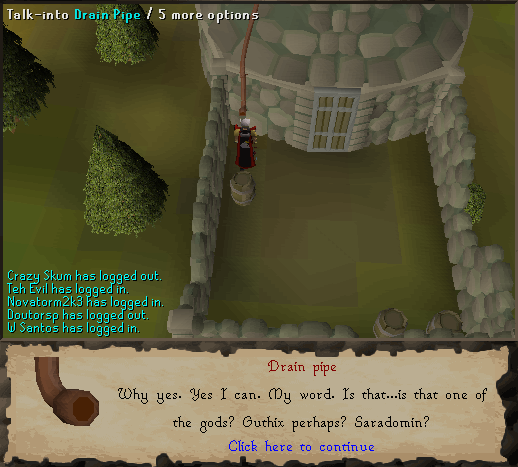 You will have a little more information about the princess. Talk again with her.

Come back to the drain pipe and choose the climb up option.
Ask Rupert if there is something up there useful. After some time you will have a great idea.




Climb up his beard, talk to him, climb down and talk to the princess again. Now things will start to make sense! Sort of.





She will tell you about a lost pendant - if you get it back to her she will let Rupert free. Ask her about a key.

Go to the witches house, take her diary and read it. Climb downstairs in the northeast room. Wear your leather gloves and open the gate. Take the music sheet on the music stand. Read the music sheet and play the piano. Look at the upper and lower notes.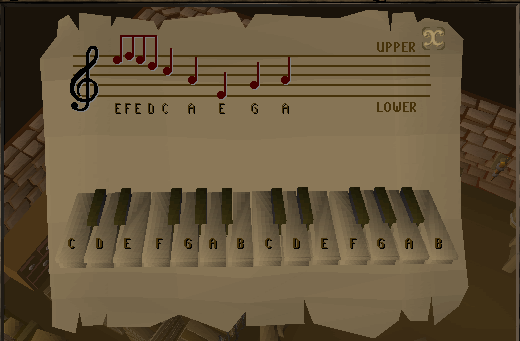 Upper notes are in the right side of the piano, lower in left side. The music sheet may vary. In the case of this sheet, you should play Upper E, Upper F, Upper E, Upper D, Upper C, Lower A, Lower E, Lower G and Lower A.

If you did it right you will get a shrinking recipe, a to-do list and 2 shrunk ogleroots. Make 2 shrinking potions following the recipe instructions.

Go to the southern room and drink your potion. Bring food, as level 90+ rats will auto attack you.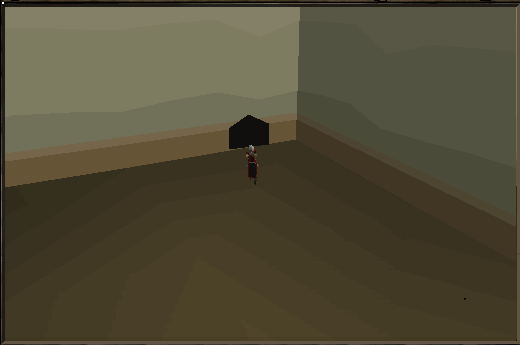 Climb up the nails in the east wall; run south then west and climb up the north nails.

Next, climb up the nails just south of you. Run east then north, and climb down the nails in the east wall. Climb up the nails north of you, run a little north and you have reached the pendant.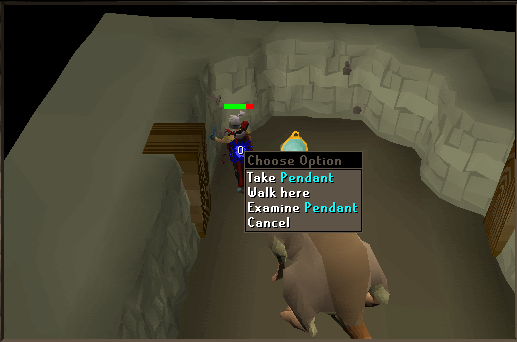 Come back to your start point (just go backwards), go a little north and enter the grate.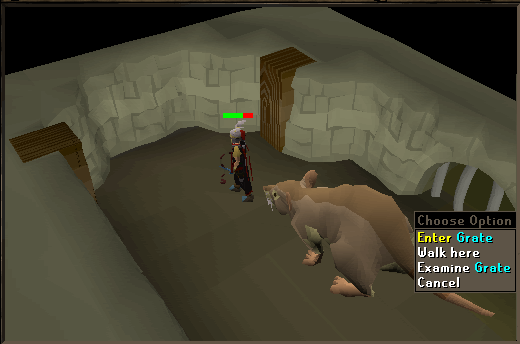 Talk to Winkin locked in the cage - you will discover some interesing things.




You can kill the 'experiments' to get more shrunk ogleroots - they drop Tarromin also. Climb up the stairs (you can climb down this hole now to get more shrunk ogleroot).

Go back to the princess and talk to her - she will let Rupert free. Talk to him and ask about his helmet, which he'll hand over.

Time to talk to Sylas and get your magic bean pay. He still wants something though - a golden goblin. And SPOILER! you'll have to fight the giant guarding it.

Go to the giant bean plant patch, located a little southwest of the Taverly tree patch on the east side of the village.





Plant your bean and water it - a giant bean plant will grow in front of your eyes. Be prepared to fight (food, potions, combat equipment, etc.). You can teleport out of the area, so bring some sort of escape teleportation in case you have to escape. This monster can turn off your prayer so, watch it out. Kill the giant, get the golden goblin and take it to Sylas. You still have one more task to do.

Go back to the bean plant and use a shrink potion on it, chop it, and talk to Sylas.

Congratulations! Quest complete!




Reward: 1 Quest Point, 4000 Farming experience, 5000 Herblore experience, 5000 Hitpoints experience, 14k Woodcutting experience, 6000 Agility experience, & 6000 Thieving experience


Back to Top