Home
Forums
IRC Chat
Signatures
Goal Signatures
Calculators

Quest Guides
Mini-Game Guides
Miscellaneous Guides
Guild Guides
Treasure Trails
Agility
Combat
Achievement Diaries
Construction
Cooking
Crafting
Farming
Firemaking
Fishing
Fletching
Herblore
Hunter
Magic
Mining
Prayer
Ranging
Runecrafting
Slayer
Smithing
Summoning
Thieving
Woodcutting





By: Rathofdoom



Requirements: None, but 5 fishing is helpful.
Items Needed: Milk, Raw Sardine, Doogle Leaf, and 100 Coins
Start: Go to the house just south of Juliet's house in Varrock and talk to Gertrude. Gertrude says that she has lost her cat, Fluffs, and needs someone to find the cat for her because she needs to look after her children. Say that you will help her and she will tell you to talk to her sons in the Varrock market place.





Behind Gertrude's house there are Doogle Leaves. Pick up one or more if you choose.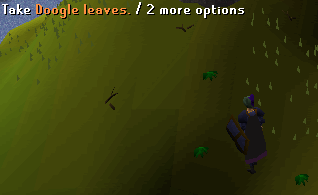 Go to the Varrock market place and talk to one of her sons (Shilop or Wilough). The will talk about their secret play area. Ask why they won't tell and then pay them the 100 coins. They tell you that their secret play place is an old abandoned mill just east of the Jolly Boar Inn.





Go to the mill and find the broken piece of fence located on the south side of the mill fence. Go through the fence and head towards the mill building. Go inside and go up the ladder. You will find Fluffs. Use the Doogle Leaf with the Raw Sardine. You will now have a Seasoned Sardine. Use the Milk and the Seasoned Sardine with Fluffs and then you will hear other cats purring.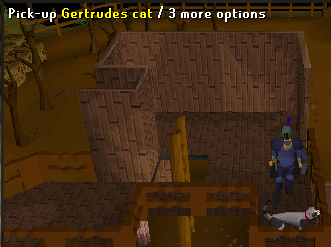 Go down the ladders and search the crate right near the ladder to get to the second floor of the mill.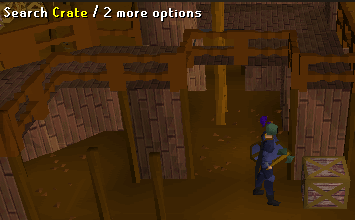 One of them contains a kitten. Take the kitten and go back up the ladder to Fluffs. Use the kitten with Fluffs and Fluffs and the kittens will run away.

Go back to Gertrude's house and talk to her. She will say that Fluffs and the kitten have come back to the house. She will thank you.

You have now completed the quest.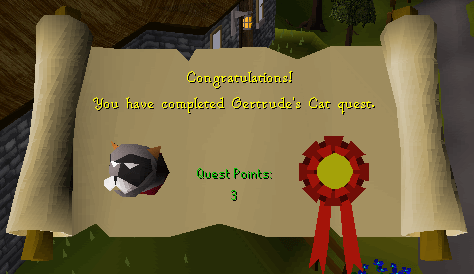 Reward: 3 Quest Points, 1 Chocolate Cake, 1 Stew, and 1 Kitten.
You can also buy kittens for 100gp.
Note: If you feed the kitten milk and seasoned sardines, it will eventually grow into a full grown cat. If you choose to not feed the cat, it will flee from you.

Back to Top