Home
Forums
IRC Chat
Signatures
Goal Signatures
Calculators

Quest Guides
Mini-Game Guides
Miscellaneous Guides
Guild Guides
Treasure Trails
Agility
Combat
Achievement Diaries
Construction
Cooking
Crafting
Farming
Firemaking
Fishing
Fletching
Herblore
Hunter
Magic
Mining
Prayer
Ranging
Runecrafting
Slayer
Smithing
Summoning
Thieving
Woodcutting





By: Acayhar



Start Point: Talk to Lady Servil located North-West of the Fight Arena
Requirements: Able to kill a level 63 Khazard Orge, level 44 Khazard Scorpion, level 137 Bouncer
Items Required: 5gp, Weapon and Armour, Food

Talk to Lady Servil to begin the quest. If you have trouble finding her, look for the black circle on the map below.




After you finished talking, talk to a nearby local. He will tell you that only Khazard guards can visit the prisoner and to become one, you need their armour. It is located in a house marked by a grey circle on the map. Search the chest in there.




After you've aquired the Khazard armour, wear it and go through the entrances marked with a yellow dot.

Talk to Jeremy Servil located near you. He will tell you the keys are held by a guard located in a room marked by a red circle. Killing him won't work. But if you talk to him, he reveals that he gets drunk from too much Khali Brew. Get out through the door marked with a purple dot (just to make the walk shorter) and go to the pub marked with a green circle. Talk to the barman and buy a bottle of Khali Brew for 5gp.

Go back to the room marked with a red circle and give the Khali Brew to him. He will give you the keys. Free Jeremy and you will follow him into the arena. An orge will be set upon his father. Kill the orge. Now General Khazard has his eyes upon you.




You will be thrown into a cell. Talk to Hengrad. After you finished talking, you will be lead outside the arena again. This time you have to kill a scorpion. After you finished it, General Khazard will set his puppy on you. After killing it, General Khazard will move on to you. You can now choose to run or to kill the general. Either way, go back to Lady Servil to receive your reward!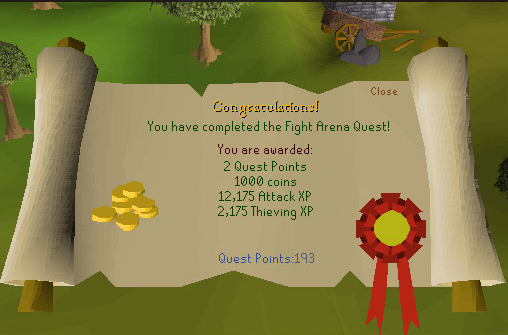 Rewards: 2 Quest Points, 1K gp, 12175 Attack XP, 2175 Thieving XP

Back to Top