by Geo1988, additions by Data/Loggy



Start Point: Speak to Auguste, on the island on Entrana.
Items Needed: 3 Sheets of Papyrus, 1 Ball of Wool, 1 Full Sack of Potatoes, 1 Unlit Candle, 1 Yellow Dye, 1 Red Dye, 10 Pieces of Silk, Clay Bowl, 8 empty sacks (bought from Farming Stores), 12 Willow Branches (Can be obtained during the quest or bought/grown separately), Spade, Secateurs, Rake, Tinderbox, 10 Normal Logs
Skills Needed: Level 20 Firemaking, Level 30 Farming, Level 36 Crafting
Quest Requiments: 20 Quest Points

To begin this quest, head to the island of Entrana and speak to Auguste located on the west side of the island once you reach the docks. (Remember that you cannot wield any armor or weapons on Entrana)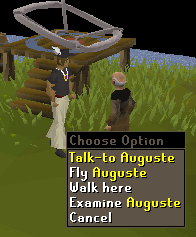 When you speak to this strange fellow, he will ask you if you want to be his assitant in being the first balloonist in all of RuneScape. He says that he is a former monk and he wants to explore the rest of RuneScape by a hot air balloon. After you agree to help him, he is going to tell you that you are going to make a balloon with him.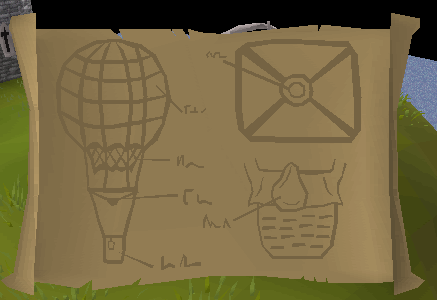 Auguste then shows you an unclear written plan of how he is going to create this balloon. He then explains how his idea of a hot air balloon is going to work, using ashes as an example. After a bit more small talk, he will tell you that he needs you to collect the materials for this balloon's two test runs. He tells you that you need 3 Sheets of Papyrus, 1 Ball of Wool, 1 Full Sack of Potatoes, and 1 Unlit Candle.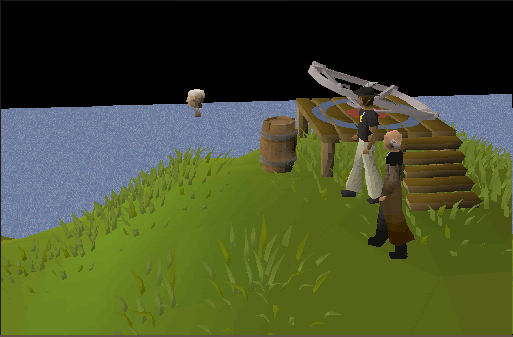 Once you have obtained these materials, head back to Entrana and speak with Auguste again. He will tell you that you need to use your papyrus on the ball of wool. Then he will tell you that the papyrus is folded into an origami box and the yarn will support the heat source. Next, add the unlit candle to the balloon structure to act as the heat source. You will be shown a cut scene where you release the balloon into the air and it will start to burn. Then, after you become a bit uneasy about the situation, Auguste wishes to continue with the tests.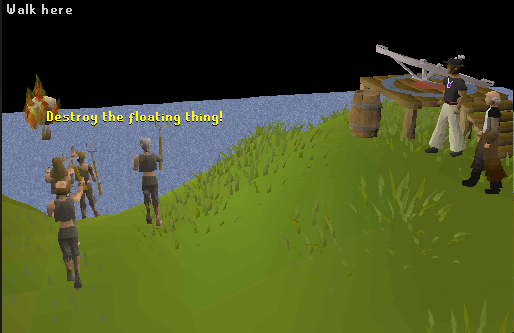 Speak to Auguste again with the full sack of potatoes and the two sheets of papyrus. Another cutscene will occur where an angry mob comes and destroys your balloon, leaving you with nothing. Speak to Auguste again and you will ask him where the angry peasants came from. He hypothesizes that the Gods sent an angry mob to those who attempt to defy them. The next task he wants you to carry out is for the gigantic balloon. He tells you that you need to obtain: Yellow Dye, Red Dye, 10 Pieces of Silk, a Clay Bowl, and 8 Sandbags.

Note: Sandbags can be made from empty sacks and using them with the sand pit on Entrana or any other sand pit.

Before you leave, he asks you to plant a willow tree for him if he provides you with a Willow Sapling and a Basket of Apples at a tree patch.

Note: If you lose Auguste's Sapling you will have to pay 30K for another.

He then tells you, once the tree is finished growing, cut twelve branches from it using secateurs, then bring the branches back there and use them on the metal frame on the platform to create the basket.

At this point, it would be wise to use your Lumbridge Home Teleport and head to the Tree Patch just west of the Lumbridge Castle, near the fence. It is rumored that Auguste's Willow Tree grows faster than the normal rate, but it is still not as fast as buying or already having a Willow Tree to cut the branches from. Clear the weeds from the patch with a rake, and with your spade use the potted tree with the patch. You can then select to pay Fayeth, the woman near the patch, with a basket of apples to watch the plant for you. After you have planted Auguste's Sapling, proceed to collect the other items you need. You will have to take more than one trip back to Entrana to retrieve all of the items Auguste asks you for. When you obtain all of the items, head back and talk to Auguste/use your Willow Branches on the Basket.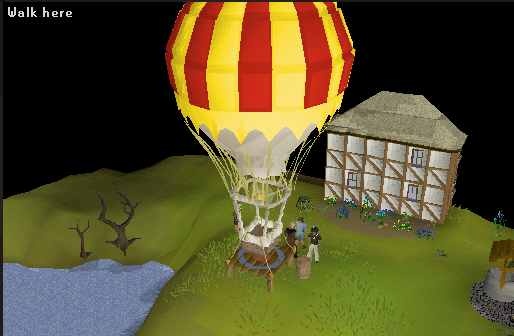 You will see a short cut scene of the balloon's massive size. Speak to Auguste again and he will ask you to fly with him if you have 10 Normal Logs and a Tinderbox. Before you fly with him, ask him "Wait, tell me what we're doing." After a bit of small talk he will talk about you piloting the balloon. He explains that the balloon needs ten normal logs for fuel and that you musnt carry over 40KG weight. He then tells you that your prime direction is to land the balloon on the target at the end of your route and that his friends in the Taverley have painted one on the ground. He then says, that you must avoid everything, that even a cloud is dangerous. He then tells you that dropping the sandbags will give the balloon a big lift, as adding logs will give you a little raise, but there is no way of replenishing them if you use them too quickly. He then tells you about the two ropes on the balloon. The red rope is an emergency rope that will drop the ballon quickly when you pull it, and the other will only drop a little. If you are ready, board the balloon.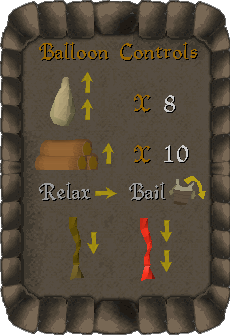 At this point, you will see a cartoon-like interface that you need to pilot your balloon through, using the directional options. It is not as overwhelming as it seems. Note: If you crash, you will arrive near just outside of Falador. Grab your logs and head back to Entrana (you will not have to re-build the balloon). Taverley Route: Move up more, Move up, Move forward X10, Move down, Move down more, Move forward X9, Move up more, Move foward X10, Move up, Move forward X11, Move down more, Move down, More forward X3, Move up, Move forward X2, Move down, More forward X2.

Note:: The above instructions are 100% correct. Even if it looks like at one point that you are about to crash, make sure you follow them correctly.

When you reach the area inside of the Taverley, speak to Auguste again. For all your hard work, he will give you a bomber jacket and cap for future ballooning adventures with him.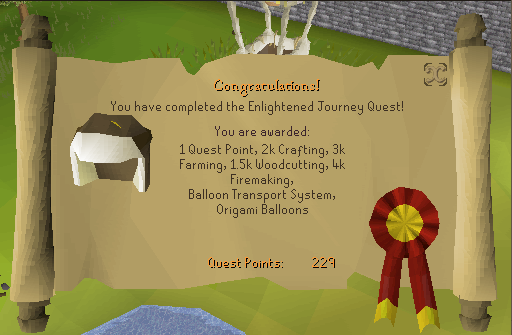 Congratulations! Quest Complete!

Rewards: 1 Quest Point, 2K Crafting Experience, 3K Farming Experience, 1.5K Woodcutting Experience, 4K Firemaking Experience, a Balloon Transport System, and Origami Balloons

Origami Balloon: If you speak to Auguste, you can ask him how to create an Orgiami Balloon. It is the same method as before, but you are able to use different colored dyes on it and you may use a Tinderbox on it to watch it float in the air.

For information of the Balloon Transport System, see the Balloon Transport Guide.


Back to Top