Home
Forums
IRC Chat
Signatures
Goal Signatures
Calculators

Quest Guides
Mini-Game Guides
Miscellaneous Guides
Guild Guides
Treasure Trails
Agility
Combat
Achievement Diaries
Construction
Cooking
Crafting
Farming
Firemaking
Fishing
Fletching
Herblore
Hunter
Magic
Mining
Prayer
Ranging
Runecrafting
Slayer
Smithing
Summoning
Thieving
Woodcutting



By: Makoto

Items Required: Amulet of Ghostspeak, 20 Ectotokens, 5 Iron Bars, Hammer, Mithril Hatchet, Blessed Holy Symbol of Saradomin, Hard Leather, Buttons (obtained by thieving H.A.M. members)
Skills Required: 18 Slayer, 19 Crafting, 30 Ranged and 35 Woodcutting
Quests Required: The Restless Ghost, Earnest the Chicken, Priest in Peril

To start: Talk to Ava in Draynor Manor.

Begin by volunteering your services to help her with her house decorum problem.





She then refers you to go to Port Phasmatys to pick up two undead chickens. Teleport or walk back to a bank, grab your Ectophial, an Amulet of Ghostspeak and five Ecto-tokens. If you don't have any ecto-tokens, you can refer to the Prayer guide to help you.

Head to the farm with Undead Cows and Chickens in it. Talk to Alice's Husband.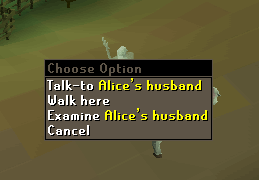 Ask if he will sell his chickens. He'll then refer you to Alice(who is in the general store). She'll give you a message to relay to him.





After a LOT of banter, you finally realize that going back and forth relaying the messages is a bit time consuming. So, you suggest a reverse-Amulet of Ghostspeak.





The same witch that helped you in the quest Ghosts' Ahoy is your next rendezvous. Head over there. She then tells you she requires an extra Ghostspeak Amulet to enchant, and a strand of Alice's hair.





...How'd that get there?

After the whole ritual is done, she will hand you a second amulet. This does not cancel out the regular Ghostspeak. When that is done, hand over the reverse amulet over to Alice's husband.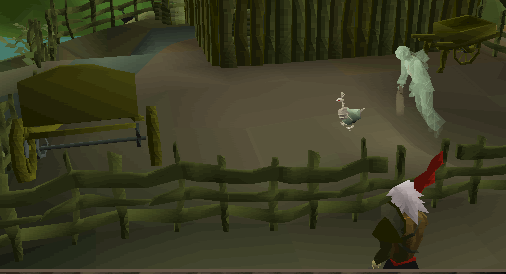 Enjoy a little funny cutscene where Alice's husband tries repeatedly to catch a chicken. A Cow31337killer will show up, eventually, kill poor Bessie and lure the chicken enough so that Alice's Husband can catch it. Then, you can buy two chickens for 20 Ecto-tokens.

Get back to Draynor Manor anyway you like. Hand the chickens over to Ava, and then you get to talking about your reward...





She then says she needs a magnet. Go to the next room and talk to the witch.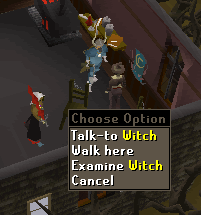 Hand over her bars. She will give you selected iron and tell you how to make the magnet:

Head to the iron mine located in Rimmington and hit the bar with a hammer while facing North.

Take the magnet to Ava. After she happily accepts it, she will get explain a source of magical wood.





Get your mithril hatchet and proceed to get some sweet revenge on the "living" trees that have been attacking you thus far. Note: The "living" trees are actually NPCs, and as such, their names are in Yellow instead of Cyan.




The hatchet will bounce off of the wood. Ask Ava what's up with that. She explains it might have something to do with Slayer, so she advises talking with Turael in Burthrope. To do you a favor, he needs only a Mithril axe and a Blessed Symbol of Saradomin to give you, which he'll happily swap for his premade Blessed hatchet.

Head back to Draynor and chop down one of those demon trees. Give a branch to Ava, then she describes how she needs a container to hold all of the infinite arrows in the bag.




Fiddle around with the puzzle for a bit, leaving 2, 5 and 9 active.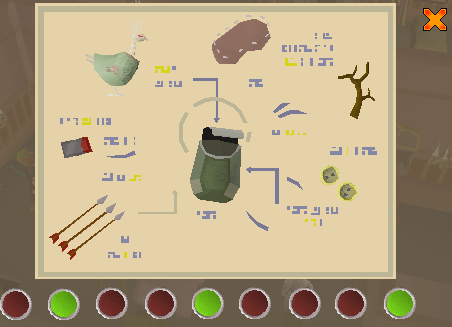 If you don't have hard leather and/or buttons, go and get those now. Hard leather can be found from cows and taken to a tannery, and buttons can be thieved from H.A.M. Headquarters. Use the shiny buttons with the hard leather and you'll create your container.

Quest Complete!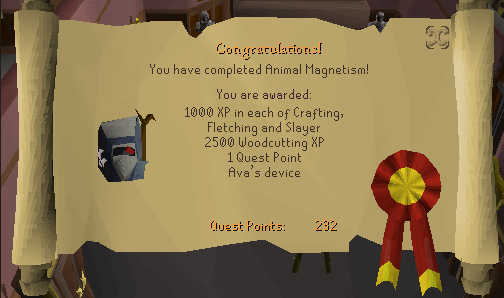 Notes: If you ever lose your accumulator you can get one back from Ava by paying 999 gp BUT that acucumulator will not be upgraded and you will have to bring a further 75 steel arrows with you if you want the highest level accumulator.

Back to Top