By: Mysticallity

(

This is a members-only feature.

)

Note: This is a 'dangerous' Mini-Game. If you die, you will lose your items.

Requirements
Getting There
Overview
Logs
Shades
Cremation
Shade Dungeon
Rewards

Location: Mort'ton

Requirements: Must have completed the Shades of Mort'ton Quest, various other items (see below)

The Shades of Mort'ton Mini-Game is a treasure hunt sort of game. The quest showed you a way to cremate the shades and the keys they leave behind. These keys can be used to unlock their treasures in their dungeons.



Requirements



In order to play this mini-game, you will need a variety of items.

Razmire: You need Razmire. As such, it is recommended to cure Razmire with a dose of Serum 207(p) (obtained by using Serum 207 on the holy fire altar at 20% Sancity) in order to gain access to his shop permanently. You can keep using normal Serum 207 if you want to (if you haven't used a permanent one), but it is not recommended for long-term trips.





People: You need a group of people to help rebuild the temple or to kill the shades around the temple. You can either recruit your own friends or go to a populated world. Females recommended for best effects.


Item

Image

Info

Hammer

You can buy one at Razmire's stall. Alternatively, you may also buy a Flamtaer hammer from said store at a higher price, which will increase your chances of repairing the temple wall. It is not recommended unless you're planning to do a large amount of trips

Logs

You will need these to cremate the shades. The type of log will vary depending on which shade you are cremating. For a list of the types of logs required, see the

Logs

section

Tinderbox

Once again, if you don't have one, you can always buy one from Razmire. Needed to light the funeral pyres

Combat Equipment

In reality, fists do not work on low-density entities, so you will need proper equipment. Since you will be killing a large amount of shades, you will need equipment which will last you through. You may wish to use the Crumble Undead spell as a mage, or use a Salve amulet/(e) as a warrior. Gadderhammer will also work well on shades

Food

The shades will eventually wear away your hitpoints, so make sure you have some food ready. Whatever food you can get your hands on is good; anything around lobster or tuna works

Money

You need money to buy most of the building supplies from Razmire's store and to un-note your other supplies. Most of it will be used up on Swamp pastes so if you plan on making your own pastes (mix Swamp tar with a Pot of flour, then heat it), you can bring less money. Try to bring at least 50K for extended trips

Teleportation

You might want a quick way to get out of Mort'ton to bank your loot and refill your supplies. Ectophial will teleport you to Port Phasmatys, which is the quite near to Mort'ton compared to other methods. You don't have to teleport, since there is always the manly way to walk out of danger, by going straight into danger




Getting There



So, how do you get to Mort'ton? Since you've completed the Shades of Mort'ton Quest, you'd probably know how to get there. Of course, there are always discrepancies within assumptions, so I'll play safe.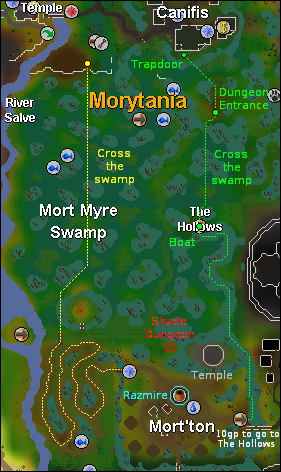 There are two routes you can take and both of them starts from Canifis.

If you have done In Search of the Myreque Quest, you can go under the trapdoor behind the bar, go out of the dungeon, go south across the bridge and take the boat further in the south. This will take you directly to Mort'ton. If you wish to return to Canifis by said boat, you will have to pay a fee.

If you have not done the quest, you will have to go through the gates south-west of Canifis and run south through the Mort Myre Swamp to reach a little bridge. You will have to go through the annoying path before reaching Mort'ton.

Overview

Here's how it works. You repair the temple until you can get a sacred oil from it, then you can use it one the best logs you have and the best Shade remains you can get your hands on. You burn these on a pyre, and hopefully it yields you one of many keys - which can be used to gain much treasure!



Logs



There are many types of shades to be cremated, some requiring higher levelled logs. Higher levelled logs will need more doses of Sacred oil, but will yield higher firemaking experience. The list below will show the firemaking level required to burn the pyre log and highest level of shade a type of pyre log can cremate.


Log

Firemaking

Doses

Shade

Exp

Pyre logs

5

2

Phrin

50

Oak pyre logs

20

2

Phrin

70

Willow pyre logs

35

3

Riyl

100

Teak pyre logs

40

3

Riyl

120

Artic pyre logs

47

3

Riyl

158

Maple pyre logs

50

3

Riyl

175

Mahogany pyre logs

55

3

Riyl

210

Yew pyre logs

65

4

Asyn

255

Magic pyre logs

80

4

Fiyr

404.5




Shades



The higher levelled shades will have a higher chance of giving higher levelled keys, which yields better treasure. Each shade will give prayer experience upon cremation.


| | | | |
| --- | --- | --- | --- |
| Type | Level | Location | Exp |
| | 40 | Mort'ton | 33 |
| | 60 | Shade Dungeon Entrance | 46.5 |
| | 80 | Shade Dungeon, Steel Door | 59.5 |
| | 100 | Shade Dungeon, Black Door | 82.5 |
| | 140 | Shade Dungeon, Silver Door | 100 |




Cremation



In order to repair the temple, you'd want to buy a few building materials from Razmire. Just buy a few Limestone bricks and Beams. You should spend more on Swamp paste, since you'll be needing them to reinforce the temple, but they can get expensive. You will also need to buy a few Olive oils. Remember to use Olive oils with each other to combine their doses!

Armed with your trusty hammer, you can now begin to repair the temple. You can have a few people working on the temple whilst leaving the others to kill the shades outside the temple. It isn't needed, but it would help.

Once you've reached 10% Sancity, you can light the altar in the middle. You can now sanctify your Olive oils into Sacred oils!





When you have used the Sacred oils and turned your logs into pyre logs, you can proceed to cremate shades. Go to the funeral pyres located on the southern part of Mort'ton. Use your pyre logs on one of the funeral pyres, then use your shade remains on the pyre logs. Now use your tinderbox with the concoction and you're done! You will either get a key or some coins as a reward.








Shade Dungeon



Since you have a key from the shades, you can now enter their dungeon in the northern part of Mort'ton. Throughout the dungeon, you will find Bronze, Steel, Black and Silver Doors. They will require a corresponding metal key to open. A lower levelled door can be opened by a higher levelled key, so be sure to keep hold one of your highest level key.

You will also find chests behind these doors. You can open it with a corresponding metal key to get the treasure within it. Be warned, the key will disappear after it is used to open a chest.



Rewards



Higher levelled metal keys will provide more valuable rewards. The colour of the eyelet also seems to influence the rewards. It starts from the worst at red, brown, crimson, black and to purple at the best.







Thus, there are four groups of keys, with five different types of keys in each group. The following tables will list the possible rewards you can get from using a metal key on the chest. The rewards are totally random.

Bronze


Item

Coins

Swamp paste

Clue scroll (level 1)

Chaos runes

Sapphire ring

Amulet of defence

Silver bar

Gold bar

Mithril bar

Magic staff

Steel med helm

Steel weaponry

Black weaponry

Mithril weaponry
Steel
Item

Coins

Swamp paste

Fine cloth

Clue scroll (level 2)

Chaos runes

Nature runes

Adamantite bar

Willow logs

Emerald ring

Amulet of strength

Studded chaps

Steel armoury

Steel weaponry

Black med helm

Black weaponry

Mithril med helm

Mithril weaponry
Black
Item

Coins

Swamp paste

Fine cloth

Clue scroll (level 2)

Nature runes

Death runes

Flamtaer hammer

Willow logs

Yew logs

Ruby ring

Amulet of magic

Elemental staves

Black armoury

Black weaponry

Mithril armoury

Mithril weaponry

Adamant med helm

Adamant weaponry
Silver
Item

Coins

Swamp paste

Fine cloth

Clue scroll (level 3)

Death runes

Blood runes

Battlestaff

Yew logs

Magic logs

Amulet of power

Diamond ring

Flamtaer hammer

Mithril armoury

Black platebody

Black spear

Adamant armoury

Adamant weaponry

Rune armoury

Rune weaponry


Have fun looting treasure from the shades!


Back to Top