Home
Forums
IRC Chat
Signatures
Goal Signatures
Calculators

Quest Guides
Mini-Game Guides
Miscellaneous Guides
Guild Guides
Treasure Trails
Agility
Combat
Achievement Diaries
Construction
Cooking
Crafting
Farming
Firemaking
Fishing
Fletching
Herblore
Hunter
Magic
Mining
Prayer
Ranging
Runecrafting
Slayer
Smithing
Summoning
Thieving
Woodcutting



By: Deathbyape and Data/Loggy

This is a

members-only

feature.

Location: West of the Pirates Hideout in the deep Wilderness, at about level 55 Wilderness
Requirements: 55 Agility
Extra Info: Bring some high level food, at least lobster; a slashing weapon is useful to cut through webs, but otherwise bring as little as possible for minimal losses if you are attacked by PKers (which is quite possible)

The Wilderness Agility Course is a more dangerous but quicker agility course, located in the northernmost expanses of the wilderness, west of the Pirates Hideout.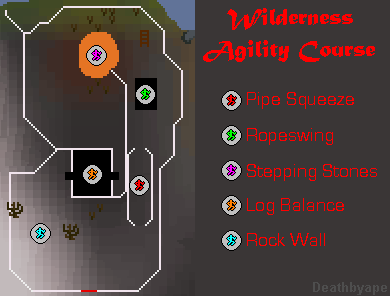 The course requires Level 52 Agility to enter. This is the requirement for the ledge to enter, (which can be failed, sending you into a pit of wolves) which gives 15 experience. You can fail a good bit here and the wilderness is dangerous, so you might want to bring some food.


| | | |
| --- | --- | --- |
| Obstacle | Failure Possible? | Experience |
| Entry Balance Ledge | Yes | 15 |
| Obstacle pipe | No | 12.5 |
| Ropeswing | Yes | 20 |
| Lava Stepping Stones | Yes | 20 |
| Log Balance | Yes | 20 |
| Rock Wall | No | 0 |


Agility Bonus: 498.9 experience

Completed Lap: 571 experience


Back to Top