Home
Forums
IRC Chat
Signatures
Goal Signatures
Calculators

Quest Guides
Mini-Game Guides
Miscellaneous Guides
Guild Guides
Treasure Trails
Agility
Combat
Achievement Diaries
Construction
Cooking
Crafting
Farming
Firemaking
Fishing
Fletching
Herblore
Hunter
Magic
Mining
Prayer
Ranging
Runecrafting
Slayer
Smithing
Summoning
Thieving
Woodcutting



By: Serge and Deathbyape

This is a

members-only

feature.

Location: Northeast of Sophanem in the Kharidian Desert
Requirements: 30 Agility
Extra Info: This course is in the desert, so you should wear desert robes and bring some waterskins (filled with water), as well some food; lobsters at least

This agility course is a bit more entertaining than the others. However, this course does take quite a bit more time than all of the other courses do. You have to climb down a rock slide (level 30) to get to the Pyramid. Once you have climbed down you will meet Simon Templeton who will ask you to retrieve an artifact from the top of the pyramid. The pyramid has 5 levels.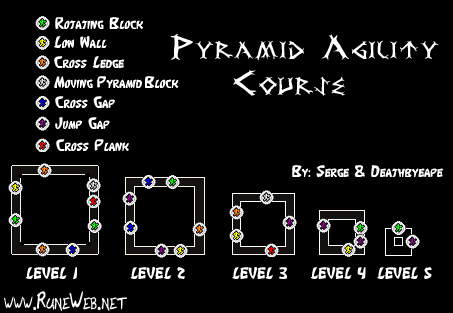 Basically, you travel up the Pyramid past obstacles until you reach the top. When you are at the peak of the Pyramid, you can look in the center and climb up the rocks on the side of the wall, where a Golden Pyramid sits. Grab it and head out through the exit. When you get back down, you can speak to Simon Templeton and sell him your pyramid for 1000 gp each. Make sure before heading to this course you bring your desert robes, food, and waterskins. The table below gives more info on the obstacles.


| | | |
| --- | --- | --- |
| Obstacle | Failure Possible? | Experience Gain |
| Rotating Block | Yes | 12 |
| Low Wall | Yes | 8 |
| Cross Ledge | Yes | 52 |
| Moving Pyramid Block | Yes | N/A |
| Cross Gap | Yes | 56.4 |
| Jump Gap | Yes | 22 |
| Cross Plank | Yes | 56.4 |


Completed Pyramid: 1014 experience (if you go through it all at once without failing)


Back to Top