Home
Forums
IRC Chat
Signatures
Goal Signatures
Calculators

Quest Guides
Mini-Game Guides
Miscellaneous Guides
Guild Guides
Treasure Trails
Agility
Combat
Achievement Diaries
Construction
Cooking
Crafting
Farming
Firemaking
Fishing
Fletching
Herblore
Hunter
Magic
Mining
Prayer
Ranging
Runecrafting
Slayer
Smithing
Summoning
Thieving
Woodcutting



By: Serge and Deathbyape

This is a

members-only

feature.

Location: Ape Atoll
Requirements: Level 48 Agility, must have completed the Monkey Madness quest, must be wielding a Ninja Monkey Greegree (refer to the Monkey Madness quest for info on greegrees)
Extra Info: Remember to not remove your greegree at risk of being taken down by the violent monkey population; food recommended, at least lobster or so; anti-poison recommended

When you have reached the requirements (including that crazy monkey quest) feel free to use this quick agility course. Though the course gives no agility bonus or bonus exp for a completed lap, it is quickly done and yields some good exp. Be warned though, at the lower agility levels up to 70, failure is very likely. This course is best run at levels 70+ to ensure speed and less failure. Make sure you bring food, super energy potions, and an anti-poison.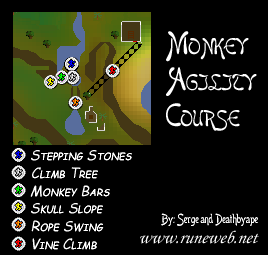 If you run low on food, and have a knife in your inventory, you can pick the Pineapple Plant right near the end of the vine at the end of the course. You can cut the pineapples into some rings or slice them up. There is also a shark fishing spot just east of the vine climb. If you have a tinderbox, a harpoon, and some logs, you can catch a few sharks. The Ape Atoll Teleport spell obtained during the Awowogei portion of the Recipe for Disaster quest is very useful for this course.

The table below gives info on the parts of the course.


| | | |
| --- | --- | --- |
| Obstacle | Failure Possible? | Experience |
| Stepping Stones | Yes | 40 |
| Climbing Tree | Yes | 40 |
| Monkey Bars | Yes | 40 |
| Skull Slope | Yes | 60 |
| Rope Swing | Yes | 100 |
| Zip Vine | Yes | 300 |


Agility/Lap Bonus: None


Back to Top